Generating qualified sales leads is one of the primary goals of marketing- especially if the product or service is complex or technical in nature. At Marketing Eye, we have developed our own tools, processes and systems to ensure our clients are generating real results.

Our systematic approach allows us to reach your target audience in the shortest amount of time possible. We research, identify, design, execute, and manage sales campaigns that are targeted to convince prospective clients that you are their only option.

How does our lead generation program work?

We use a proven methodology called the "Lead Generation Maximizer" that allows you to plan, systematize and automate the process of generating leads throughout your business. The program includes 4 critical steps in the lead generation process: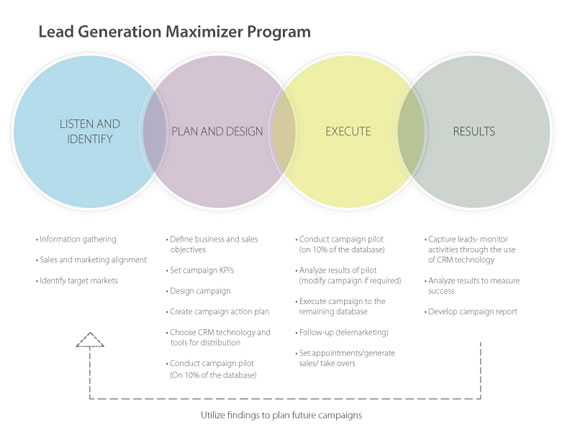 Our Marketing Professionals can help you develop and execute your lead generation strategy and implementation in a 12 month period. Just think how invaluable this would be for your growing business. Our teams experience combined with our cutting edge technology assists your company in generating quality leads to your business.

Marketing Eye drives your sales automation process to deliver lead generation campaigns that fast-track the sales cycle and deliver unparalleled results.

The discipline of lead generation is constantly changing. Today's marketing departments realize that their role has shifted from pushing a sales process to facilitating a buying process with the help of sales and marketing automation platforms. At Marketing Eye, we take a different approach to the way we cultivate and nurture leads.

Contact us now to discuss how our lead generation service can work for you. Have a Marketing Eye Lead Generation specialist in your business today!