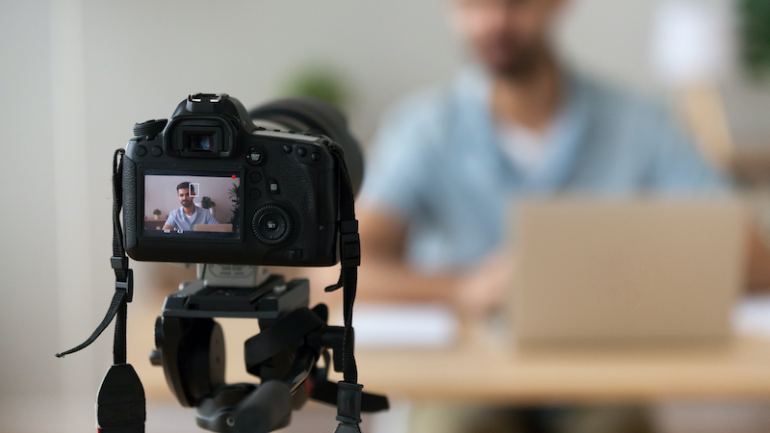 Why You Should Have Videos in Your Marketing Campaign
Written by Madeleine Hobson
What is video content marketing? This form of marketing is simply adding engaging videos to your marketing strategy. This is integral to modern day marketing, as videos are a growing social media trend due to their engaging nature and ensuing success in achieving sales. In the digital era, it is essential for businesses to be up-to-date with the most effective and successful forms of marketing trends. Video marketing is expected to be a permanent trend and therefore essential marketing technique for your company's tool kit. Research exposes that 74% of consumers that view an online video explaining a product end up purchasing it. It would be impractical in the digital era to not include videos in your marketing campaign.
Videos augment online conversation about your product, followed by increased sales of your product.
Video content boosts conversations and sales. This is because the engaging nature of videos creates interest for consumers, resulting in online conversations about the product the video is pertaining to. This will increase the popularity of your services or product, as potential clients and customers are hearing about your business through recommendations regarding your business on social platforms.
Videos clearly explain your product in an engaging way (and brings attention to even those buyers who might not want to take time to read about your product).
The fact that consumers respond to video content is not a shock, as sight is the most dominant sense of the five senses. Therefore, it is essential that marketers appeal to potential buyers and consumers by utilizing visuals (through video content). Images are engaging; however, videos are way more appealing to consumers.
Sometimes, visuals or written content regarding your product will not be engaging enough to consumers. Video content is interesting to even the viewers who may be "too busy", as it is easily consumed in comparison to other marketing campaigns (written and visual versions).
Videos are the most effective way to explain your product to consumers as it is more likely the customer will be interested and interacting with the video content. Therefore, leading the customer to understand what it is you are selling. It is imperative the consumer has an understanding as to what you are selling; as 'customers will only buy their product when they understand what it is and how it will help them'.
Essentially, videos explain content in the most effective way. The animated element of videos draws viewers in. Animation 'brings concepts to life that no text or live video can'. Animated videos are extremely helpful in explaining content, as it engages individuals and ensures that viewers are taking in the information being presented to them. When a potential customer is simply reading about your product there is a high chance their mind is wandering elsewhere if they aren't completely interested or drawn in. Using animated videos ensures the viewer is listening and watching to the content.
Video content creates trust between brand and consumer.
The relationship between the brand and consumer is extremely important. A brand being recognized as trustworthy has also been deemed a social media trend of 2021; reliability and honesty of a brand is more important than ever. Meaningful and trustworthy relationships with brands are the foundation of success in sales and marketing. In the new era, consumers are searching to buy off brands that they trust and value. It is not only the product being promoted in the digital era; positive brand identity and culture is essential in achieving sales.
By posting video content, your brand is fully exposing a brand identity to the public. Using videos rather than purely written or visual content fosters trust between the consumer and the company. This is because videos allow marketers and brands to go into detail when explaining a product. Videos allow brands to adopt a conversational tone when talking to consumers. This colloquial approach allows customers to feel safe and less intimidated by a brand; 57% of consumers feel they can trust a brand when they view video content from the company.
Videos boost SEO.
The Google search engine favours videos. This is because Google owns YouTube and puts YouTube videos at the very top of the google search pages. Statistics from Moovly expose that your website is 53% more likely to come up on the first page of the Google search if you post a YouTube video regarding your company or product. Once you have planned and filmed your video, it is important to then add words related to your company to increase the likeliness of appearing at the top of the search engine for topics related to your services. It is extremely important to attempt to boost your businesses SEO, as placing at the top of the search bar will inevitably boost traffic to your website and in turn boost the popularity of your company.
Video marketing appeals to mobile phone users.
A majority of research regarding a product, viewing of products and buying occurs on mobile phones. Statistics evince that 90% of individuals view videos on their mobile devices. This is undoubtedly because consumers are mostly carrying their phones around with them everywhere they go. Humans are busy and prefer to watch videos on the go. It is therefore important to add engaging videos into your marketing campaigns, as consumers will view quick and interesting video content on their mobiles.
The need for videos in your companies marketing strategies is irrefutable. Ensure your business is keeping up with the trends and advancements of technology within the marketing world. Videos are the current trend and the future of successful marketing. Video content engages and brings interest to consumers. By posting videos on your website and creating a personable and approachable brand identity, your business is creating a trustworthy relationship between consumer and marketer, which in turn boosts popularity of your business and increases sales.
Image Source: Shutterstock-1363890887