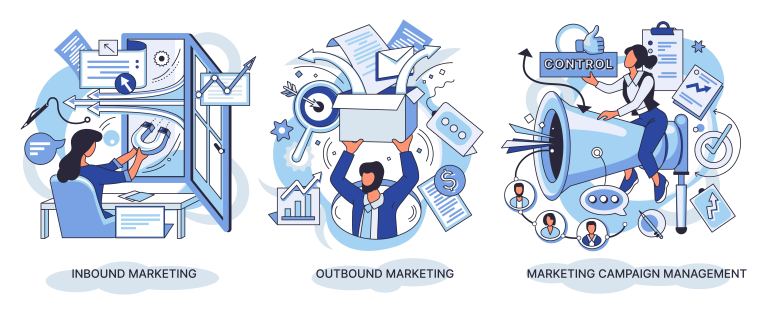 Why Marketing is Important, Now More Than Ever
Marketing has been an integral part of any successful business for many years. Promoting a product or service to potential customers increases sales and builds brand awareness. In the past, marketing was limited to traditional print and broadcast advertising methods. However, with the advent of technology and the growth of the digital age, marketing has evolved and become much more sophisticated.
As consumers become more connected and accessible through digital channels, businesses have been forced to adapt their marketing strategies to reach their target audience where they spend most of their time - online. This has shifted towards digital marketing and new marketing channels such as social media, email marketing, and search engine optimization (SEO).
As a result of this evolution, the importance of marketing has only increased in recent years. Marketing is no longer just about promoting a product or service; it is about creating a positive customer experience, building brand loyalty, and standing out in a competitive market. As such, businesses must understand the importance of investing in marketing and its impact on their success.
The Rise of Digital Marketing
The digital age has brought about a significant change in the way businesses approach marketing. Traditional marketing methods, such as print and broadcast advertising, are still used. Still, they have been complemented by digital marketing channels such as social media, email marketing, and search engine optimization (SEO).
According to Statista, in 2021, digital ad spending reached $332 billion globally, with experts projecting this number to continue growing in the coming years; the digital marketing space is a growing industry as businesses are shifting their marketing strategies to accommodate it.
The Importance of Social Media
Social media has emerged as one of the most important marketing channels in recent years. It provides businesses with a platform to reach their target audience, build brand awareness and connect with customers more personally and engagingly. By leveraging the power of social media, businesses can reach millions of potential customers and create a community around their brand.
One of the key benefits of social media is the ability to build a community around your brand. By consistently sharing valuable content, responding to customer inquiries, and engaging with their followers, businesses can create a loyal group of customers who are invested in the success of your brand. This can increase brand loyalty, repeat business, and word-of-mouth recommendations.
Increased Competition
The growth of digital marketing has also led to an increase in competition. With more businesses vying for customers' attention, it has never been more vital to have a strong marketing strategy.
Without a solid marketing plan, it is easy to get lost in the competition and fail to reach your target audience. This is why staying up-to-date with the latest marketing trends is crucial, as implementing a comprehensive strategy that includes digital and traditional marketing channels.
Building a solid brand identity is one of the critical components of standing out in a competitive market. A well-defined brand identity can help businesses communicate the unique benefits of their products or services and establish a connection with their target audience. A strong brand identity also helps build customer trust and credibility, which can increase customer loyalty and repeat business.
The Power of Data
The availability of data has revolutionized the way businesses approach marketing. With access to vast amounts of data on consumer behavior, companies can now target their marketing efforts more effectively.
For example, businesses can use data to determine the best time to send emails, the type of content that resonates with their audience, and the best channels to reach their target market. This has made marketing more data-driven and resulted in higher efficiency and effectiveness.
One of the most significant benefits of data-driven marketing is the ability to personalize marketing efforts. By collecting and analyzing data on individual customers, businesses can create highly targeted and personalized marketing campaigns more likely to resonate with their target audience. Personalized marketing not only improves the customer experience but also increases the effectiveness of marketing efforts, driving more significant results for the business.
Data also plays a crucial role in customer segmentation. Customer segmentation divides a customer base into smaller groups based on common characteristics, such as demographics, behaviors, and preferences. With accurate customer data, businesses can create highly targeted and effective marketing campaigns for each customer segment, improving marketing efficiency and driving more significant results.
Improved Customer Experience
Marketing is not just about promoting your product or service but also about creating a positive experience for your customers. Accenture has found that 89% of consumers would switch to a competitor after poor customer experience, showing the significance customer experience can have on loyalty.
With the rise of social media and other digital channels, customers now expect to be able to interact with businesses in real time. They want to be able to ask questions, provide feedback and receive support quickly and easily. By prioritizing customer experience, companies can build strong customer relationships and increase customer loyalty.
The Future of Marketing and its importance to Business Success
Marketing is more necessary now than ever before. With the rise of digital marketing and increased competition, businesses must have a comprehensive marketing strategy. Companies can use the latest technology and data to reach their target audience more effectively, improve the customer experience, and build brand loyalty.
Marketing will continue to evolve and change with the advancement of technology, but its importance to business success will remain unchanged. Businesses that invest in marketing will have a competitive edge and be better positioned to reach their goals and succeed in today's fast-paced and dynamic business environment.
Whether you are just starting or are an established business, now is the time to prioritize marketing and ensure that your business reaches its full potential. By staying up-to-date with the latest trends and technology, companies can stay ahead of the curve and achieve long-term success. The future of marketing is bright and will continue to play a vital role in the success of businesses everywhere.