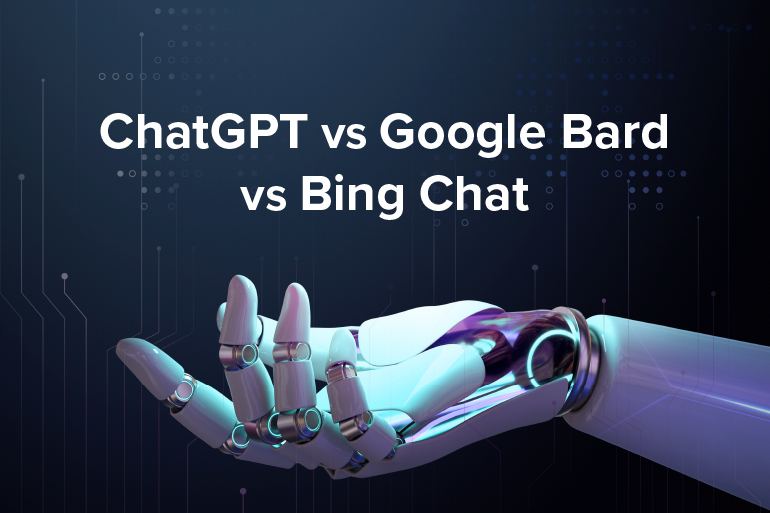 Unleashing the Power of Conversational AI: ChatGPT, Google Bard, and Bing Chat for Scaling Marketing Campaigns
Written by Mellissah Smith
As a marketing agency, we are constantly exploring innovative ways to improve our marketing performance for clients in the B2B sector.
With new platforms like ChatGPT, Bing Chat and Google Bard, marketers are empowered to scale marketing programs like never before
The emergence of conversational AI has opened up new possibilities, allowing brands to interact with customers in a more personalized and interactive manner.
But what are the key differences between three popular conversational AI platforms: ChatGPT, Google Bard, and Bing Chat – and which one should a marketer be using to improve marketing strategy performance. By understanding their unique features and capabilities, marketers can harness the potential of these tools to take their marketing campaigns to new heights.
ChatGPT: Empowering Conversations with OpenAI's GPT-3
ChatGPT, developed by OpenAI, is a cutting-edge conversational AI model that utilizes the power of the GPT-3 (Generative Pre-trained Transformer 3) architecture. With its ability to generate human-like responses, ChatGPT enables marketers to create interactive chatbots and virtual assistants that can engage customers across various channels.
One of the key strengths of ChatGPT is its versatility. It can adapt to different use cases, such as customer support, lead generation, and content recommendation, making it a valuable tool for marketers. The model's natural language understanding capabilities allow it to comprehend complex queries, understand context, and provide accurate responses.
ChatGPT also offers customization options, enabling marketers to fine-tune the AI model according to their brand's tone of voice and specific requirements. By training the model on historical data and feedback, marketers can enhance its performance and make it more aligned with their marketing objectives.
Google Bard: Enhancing Conversational Search Experiences
Google Bard, introduced by Google, is a conversational AI tool focused on enhancing search experiences by providing more comprehensive and interactive responses. It leverages natural language processing (NLP) techniques to understand user queries and generate contextual responses.
One of the notable features of Google Bard is its ability to generate rich and dynamic search results.
When a user asks a question, Bard can present a combination of text, images, videos, and even interactive elements like calculators or mini-games directly in the search results. This creates a highly engaging and immersive experience for users.
For marketers, Google Bard offers an opportunity to optimize their content for conversational queries. By understanding how users interact with voice search and crafting content that aligns with their intent, marketers can increase their visibility and capture valuable traffic.
Bing Chat: Empowering Search Advertising with AI
Bing, now known as Bing Chat, Microsoft's search engine, has also embraced the power of conversational AI to improve search experiences and empower marketers. Bing Chat utilizes its AI capabilities to provide more relevant search results and enhance advertising opportunities.
One of the key advantages of Bing Chat is its integration with Microsoft Advertising, allowing marketers to leverage AI-powered features for optimizing search campaigns. Bing Ads provides intelligent audience targeting, dynamic search ads, and automated bidding, enabling marketers to maximize their ad performance and scale their campaigns effectively.
In addition, Bing Chat's AI capabilities extend to its image search and visual search functionalities. Marketers can optimize their visual content to appear in relevant image search results, reaching a broader audience and driving traffic to their websites.
Conversational AI platforms like ChatGPT, Google Bard, and Bing Chat have revolutionized the way marketers engage with their audience and scale their marketing campaigns. By leveraging the power of these tools, marketers can create personalized, interactive experiences and tap into the growing trend of conversational search.
While ChatGPT offers the flexibility of creating AI-powered chatbots, Google Bard enhances search experiences with rich results, and Bing Chat empowers search advertising with AI optimization. As marketers strive to stay ahead in a highly competitive landscape, harnessing the capabilities of these conversational AI platforms can truly amplify their marketing efforts and drive greater success.
For me, it's ChatGPT all the way but there certainly is benefits in using Bing Chat and Google Bard, that will hopefully one day catch up.