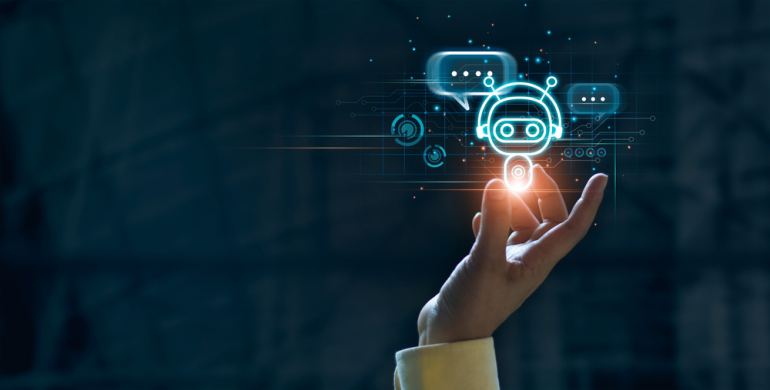 The use of chatbots and AI in customer service and marketing
Written by Satyaki Debgupta
Chatbots and AI have revolutionized the way businesses interact with their customers. In customer service, chatbots can provide 24/7 customer support, bridge the gap between customer and first-time visitor, answer customers' queries, and even handle complex issues by integrating with human agents.
In 2022 67% of global consumers had an interaction with a chatbot. With a high percentage of global consumers interacting with chatbots businesses can make use of AI to help personalize campaigns and recommend products to customers without manual support. The move to independence from manual help has made the process of interacting and communicating with consumers faster.
Additionally, AI based chatbots can answer 70% of the customers queries and they are able to direct customers to a new landing page. This can not only save the organization from a financial point of view but also makes the process easier.
We can observe the following benefits from chatbots in customer service:
Efficiency
One of the main benefits of chatbots in customer service is their ability to provide quick and efficient support. Chatbots can improve lead generation of any marketing campaign, can answer a high volume of common inquiries at once and they can monitor customer data to gain insights. This can balance automation with a human touch to handle more complex issues, while also providing a better customer engagement.
Improves customer retention and loyalty
Chatbots can also be programmed to handle specific tasks, such as scheduling appointments or processing returns. This can save customers time and hassle, and it can also lead to increased sales and customer loyalty. Chatbots are multilingual so they can answer the queries of customers belonging to a wide range of vernaculars.
Chatbots support omnichannel messaging which helps customers to communicate with organizations through various channels like websites and social media. Furthermore, multilingual chatbots have made the service accessible to many people irrespective of their language which in turn enhances customer retention.
Benefits of chatbots over CRM
Another benefit of chatbots in customer service is their ability to integrate with other systems. For example, chatbots can be integrated with a company's CRM system, allowing them to access customer information and provide personalized support.
This can lead to a better customer experience, automation of data processing, faster data access, simplified navigation within the page and carving out accurate data from any database.
Chatbots can cut down expenses by replacing expensive CRMs, according to Juniper Research insurance sectors can save up to $1.3 billion in upcoming years by incorporating chatbots for customer support. Therefore, the overhead costs of any business can be significantly reduced by replacing CRMS to chatbots.
AI and chatbots in marketing
In addition to customer service, chatbots and AI can also be used in marketing. One way that companies are using AI in marketing is by personalizing campaigns. For example, an e-commerce company can use AI to recommend products to customers based on their browsing and purchase history. Due to its ability of conducting
personalized campaigns 40% of customers prefer chatbots as customer service agents and 64% of businesses rely on chatbots to provide personalized customer support. This can lead to increased sales, as customers are more likely to buy products that they are interested in.
Identification of consumer patterns by chatbots
Another way that companies are using AI in marketing is by analyzing customer data to identify patterns and trends. This can help companies make better decisions about where to allocate resources and how to target their marketing campaigns.
Optimization of customer journey by chatbots
AI can also be used to optimize the customer journey. This can include everything from providing personalized information through websites to automating email campaigns in a very short span of time. By using AI to optimize the customer journey, companies can increase lead generation, conversions of the generated leads and improve the customer experience.
Scaling up businesses
Another key benefit of AI in marketing is its ability to scale. AI-powered systems can identify the customers and target audience, and analytics can generate actionable insight. Thus, it can streamline the marketing procedure of an organization. This can help companies reach more customers and make more informed decisions.
As technology continues to advance, we can expect to see even more innovative ways for businesses to use chatbots and AI to improve the customer experience.