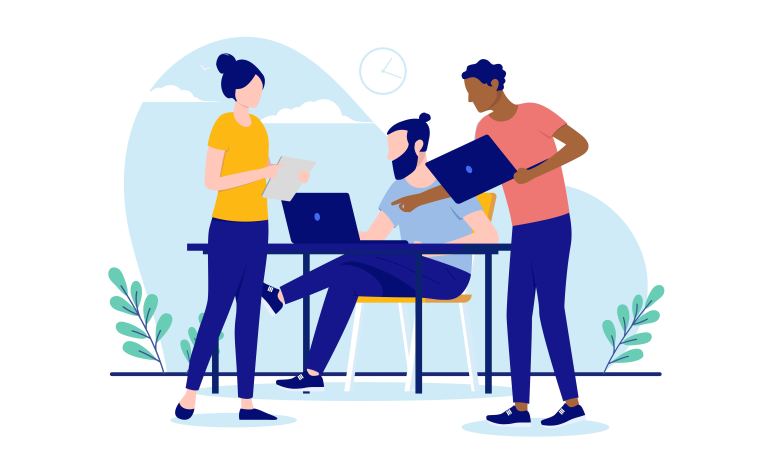 The Relationship Between Marketing and Sales
Marketing and sales are two distinct services within a business, and their roles are clearly defined. They are often seen as separate departments, but they share some similarities, and do have some overlap that cannot be overlooked. In any organization, one of the keys to success, and perhaps also one of the biggest challenges, would be to get the marketing and sales team to be on the same page and work closely together. It may sound like a simple task to achieve, but there are often conflicts due to different perspectives on marketing budgets and its effect on sales performance.
In this blog, we'll delve into the relationship between marketing and sales, and explain how you can foster better teamwork between these two roles to help build on the success of your business.
Why should marketing and sales team work together?
When you think about the purpose of marketing and sales, it all comes down to the strategy needed to convert the potential leads into customers. While a marketing team is responsible for developing strategies, the sales team is responsible for implementing them. So, having a strong relationship between the two departments will enable effective collaboration which leads to a smoother workflow that often results in reducing costs and increasing profits for the business.
The quality of leads generated will also increase when marketing and sales are working closely together as their goals are aligned. The reason is that sales can help marketers identify the target customer persona for the company, and the marketing team will come up with a strategy that attracts the right customers. In fact, a statistic by MaketingProfs has found that organizations in which sales and marketing functions are aligned have 36% higher customer retention rates and 38% higher sales win rates. Therefore, aligning the operation processes between these two departments, enables mutual understanding and effective communication, leading to a more profitable business.
After knowing the importance of this relationship, let's move on to the things your business can do to help create more alignment to both departments.
1. Work together in the planning process
It is important to involve the salespeople from sales team in the strategic planning process of the marketing department because it will allow both teams to work closely together. In addition, they are able to see things from each other's point of view and better understand the other team's perspectives. Involving salespeople in the strategy process, gives them a chance to share things about the target customer as they are able to directly interact with them, so it is beneficial for the marketing team to understand things which they can't see from their position. This allows the marketing team to write better strategic plans and make changes before it's too late.
2. More communication
The key to bringing your marketing and sales departments together is to open lines of communication for them. If communication does not take place, both departments will have difficult time understanding one another's perspective. This may result in misalignment of goals leading to inefficiencies in the workplace that will reflect on the business performance. You can try combining more meetings for marketing and sales team, allowing both departments to gain insights into how the process of each team works. Holding a meeting that is combined between the two departments enables them to hear what the other team's steps to successes look like more transparently and begin to understand each other's challenges so they can compromise and form a closer relationship.
3. Ensure sales team understands marketing strategy
It is crucial for salespeople to have a conceptual understanding of the marketing strategies on top of their selling skills. One of the leading causes of misalignment is the lack of understanding of goals set by the team. Misalignment that takes place does not only result in friction between teams as no one is on the same page, but the true cost of it is that it will stifle the business growth. For this reason, it is critical for the sales team to have a better understanding of the theories, tools and tactics used in the approved marketing strategy so that they can better understand why they are being asked to do certain tasks. And when they have a clear knowledge on it, it's beneficial for them when it comes to execution because they will perform better as a result from the cohesion between marketing and sales effort.
So, as you've seen, marketing and sales do have a strong relationship which is important for the growth and success of your business. Marketing informs and attracts prospects to your business by developing marketing strategies. Sales, on the other hand, works directly with prospects by executing the marketing strategies to convert them into customers. We see that it is crucial for them to work closely together to efficiently convert customers and contribute to your business growth. Therefore, you need to reinforce both teams to be on the same page to work toward the same goals to boost your overall business performance.
Image source: Shutterstock (2115818408)