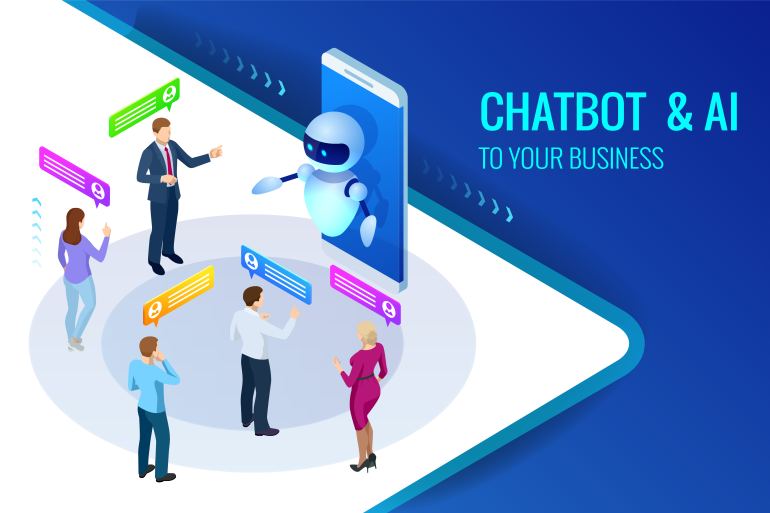 The benefits of using chatbots for customer service and marketing
You may be aware that chatbot software can automate a sizable percentage of frequent support queries, but it is capable of much more.
The advantages of chatbots are extensive, much like any new technology that upends a well-established sector. However, Chatbot benefits go far beyond simply adding a little automation because of their limitless capacity and availability.
Chatbots have grown in popularity recently among firms trying to enhance their marketing and customer service initiatives.
What are chatbots?
A chatbot is a computer program designed to simulate conversation with human users, especially over the Internet. Chatbots can be integrated into websites, messaging apps, and mobile apps, and they can be used for various purposes, including customer service, marketing, and sales.
One of the main benefits of using chatbots for customer service is that they can provide instant customer assistance. According to a survey by Oracle, 70% of customers expect a response from a business within an hour of reaching out, and chatbots can provide that response in real-time. This can help improve customer satisfaction and loyalty and reduce the workload for customer service staff.
Chatbots can also be used for marketing and sales purposes. For example, a chatbot can be programmed to send personalized promotions or product recommendations to customers based on their previous purchases or browsing history. This can help drive sales and increase customer loyalty.
In addition to improving customer service and sales, chatbots have several other benefits for businesses:
1. Cost-effective
Chatbots can handle a high volume of customer interactions without additional staffing, saving businesses money in the long run. With intelligent AI chatbots taking up the majority of inquiries, organizations can quickly scale up operations without ballooning support costs. One of the numerous advantages of chatbots for expanding teams is cost savings. Since up to 45% of customers genuinely prefer chatbot communications, businesses don't observe a drop in customer happiness.
2. Scalability
Chatbots are a cost-effective alternative for companies anticipating an increase in consumer volume because they can scale to meet those needs.
3. Data collection
Chatbots can collect valuable data on customer interactions and preferences, which can be used to improve marketing and sales efforts.
4. Improved efficiency
By automating routine tasks like answering frequently asked questions, chatbots can free up staff to focus on more complex and essential tasks.
5. 24/7 availability
Chatbots can assist customers around the clock, improving the customer experience and increasing the chances of a sale. Today's customers expect fast support at any time of day. 90% of customers rate an "immediate" response as essential in customer service.
6. Support Agents During Peak Volume
Live chat is still the best customer engagement medium, but support agents can quickly reach their capacity during peak times. When chat volumes rise, adding a chatbot can offer limitless additional power. One of the main benefits of chatbots for cyclical businesses in customer support is this. When dealing with the rental of specialized equipment in the UK and Ireland, HSS Hire Group discovered a chatbot that was a big help to the agents.
While chatbots have many benefits, it's essential to use them effectively. Here are a few tips for using chatbots for customer service and marketing:
- Make sure the chatbot is programmed with accurate and up-to-date information. Customers will only trust a chatbot that provides correct or updated information.
- Use the chatbot to supplement, not replace, human customer service staff. Chatbots can handle routine tasks and provide instant assistance, but they should not be relied on to address complex or sensitive issues.
- Regularly review and update the chatbot's programming to ensure it's providing the best possible service to customers.
- Train customer service staff on how to use and troubleshoot the chatbot, so they can assist when needed.
- Monitor and measure the performance of the chatbot to identify areas for improvement.
In conclusion, chatbots can be valuable for businesses looking to improve customer service, sales, and efficiency. By using chatbots effectively and supplementing them with human customer service staff, companies can leverage the benefits of this technology to improve the customer experience and drive sales.