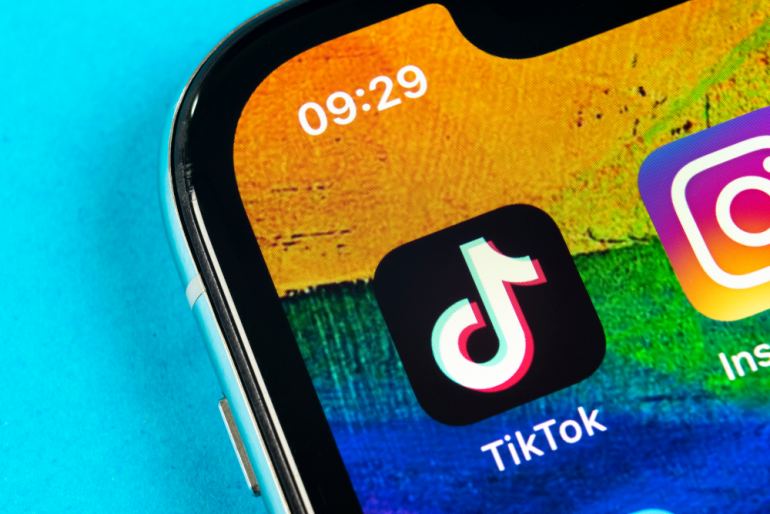 Marketers still think of TikTok as a dance platform. Here's why that's a problem
No one can deny the phenomenal impact TikTok has left the social media landscape since its launch in 2016. It only took TikTok two years to become the most downloaded app on the Apple app store, taking over already established social media platforms such as Instagram and Facebook.
TikTok is perhaps most famously known for its dance challenges, with many TikTok users either creating their own dances or reposting trending choreography. Top influencers such as Charlie D'Amelio and Addison Rae have amassed millions of followers through posting their own dance videos on this app.
However, TikTok has always been much more than just a platform for dancing videos. With the level of engagement and influence, TikTok holds over its users, for marketers to ignore TikTok or label it as a mere 'trend', would be to neglect a monumental opportunity for growth and brand awareness.
What is TikTok? What Makes it Different From Other Platforms?
First of all, what is TikTok? TikTok is a video streaming and sharing app. Videos can range from 15 seconds to 3 minutes and loops when it is finished. These videos are enhanced through specially chosen sounds, filters, text and special effects. TikTok is most popular amongst 16 to 24-year-olds. 62% of all U.S TikTok users are aged between 10 and 29.
But what has differentiated TikTok from other established platforms?
TikTok can be considered an amalgamation of the best features of the most popular social media platforms. It takes the video aspect of Youtube and incorporates it with the "feed" of short digestible posts of Instagram, Facebook and Twitter. However, perhaps its most iconic feature is its recommendation algorithm. TikTok users are not just shown content from friends they are following or pages they have chosen to like, but rather, users are shown videos based on their unique preferences and interests. As a result, each user will have their own 'For You Page' which is constantly adapting to the users' interests depending on how they interact with certain videos. According to TikTok: "The system recommends content by ranking videos based on a combination of factors — starting from interests you express as a new user and adjusting for things you indicate you're not interested in, too."
Unlike Facebook and Instagram, where you generally need to take time to develop your following to reach a greater number of people, any TikTok user's video can go viral with the algorithm. This places greater emphasis on generating quality content and in turn, encourages user retention.
Moreover, TikTok leaves users hooked with their never-ending stream of information-intensive content. This enables the social media consumers to extract as much information from small bite-sized content at a much faster rate than they would, compared to a standard Youtube video or television broadcast. The most successful TikToks get straight to the point and enable users to gain as much information as possible in the shortest amount of time.
These factors have led to users of TikTok holding the greatest average time spent on the app, overtaking Youtube.
Now that we have established the importance of TikTok, how can marketers make the most of this platform?
There are 3 simple ways you can use TikTok as means to promote your business and drive growth in sales and awareness.
Create a channel based on Authenticity and Relevancy
When creating your own content from TikTok one of the most important traits it must have, is that it must be authentic. Demonstrate the people and their stories behind the brand. TikTok videos are different from the standard polished ads one might see on television or Youtube. Speaking from a Gen Z point of view, the best way to promote your product is through creating TikToks which don't feel like watching ads. Gen Z does not want to consume something if it feels like the product is being forced upon them.
A study conducted by TikTok found that users associated the advertising on TikTok with being more authentic, fun, genuine, honest, real, and trustworthy compared to other channels. 71% of TikTok users said they didn't mind seeing advertisements as long as they were entertained.
Work With Influencers and Passionate Customers to Introduce Your Content to a Broader Audience
Working with influencers is another way in which you can promote your product. One of the advantages of working with influencers is that they have a greater understanding of what will appeal to their audience. Interactions with influencers can range from a shoutout to the use of affiliate codes.
When selecting influencers, it is important to consider a multitude of factors. Selecting the right influencer means choosing an influencer who embodies the values of your organization. Furthermore, their content must be relevant to your target audience and should already be engaged with your target audience.
One of the advantages of TikTok's algorithms is that the biggest influencers are not necessarily the ones with the greatest engagement. Micro-influencers with lesser followers may hold greater follower loyalty and engagement. Using these influencers to promote your product can be budget-friendly and improve ROI.
Types of Influencer content you can consider using are:
Videos based on popular hashtags (Hashtags such as #TikTokmademebuyit are especially popular, with over 2.3 billion views on TikTok.)
Live videos
Challenges
Tutorials
Voiceovers
Lip-syncing
Dances
Running Paid Ad Campaigns on TikTok
TikTok has many different forms of paid advertising.
These ads will appear in TikTok users' news feed and blend into their feed. These ads are labeled as "sponsored" to demonstrate that it is an in-feed advertisement.
Branded hashtag challenge
This involves a brand asking TikTok users to create content (generally a dance) and post it with a specific hashtag. Trending challenges will appear on users' Discover page.
This ad will appear when the user first opens their For You Page. It will link them straight to your website landing page
TikTok can create branded filters that users will use in their own videos.
These are different from Branded Takeover in that they are the first in-feed post the users will see within the first 3 seconds.
Results of these ads and overall business performance on TikTok can be measured through their own Analytics section.
In addition to this, there are small tangible actions businesses can take to enhance sales conversion and brand awareness.
Ensure your website is linked to your profile or your brand name is shown on the content to drive traffic to your website
Follow trending content formats for your own videos
Share and encourage user-generated content
Post when your audience is most likely to be active on TikTok
Tiktok has proven itself to be a leading platform for entertainment and media. Although Tiktok has found significant success recently, it is essential to note that a majority of Tiktok users are from Generation Z. Therefore, if your business is not targeting this demographic, Tiktok may not necessarily be the ideal choice for your social media strategy. If you were interested in learning how to target different demographics such as Baby Boomers and Gen X on social media, consider reading this article for a more comprehensive guide on different social media tactics.