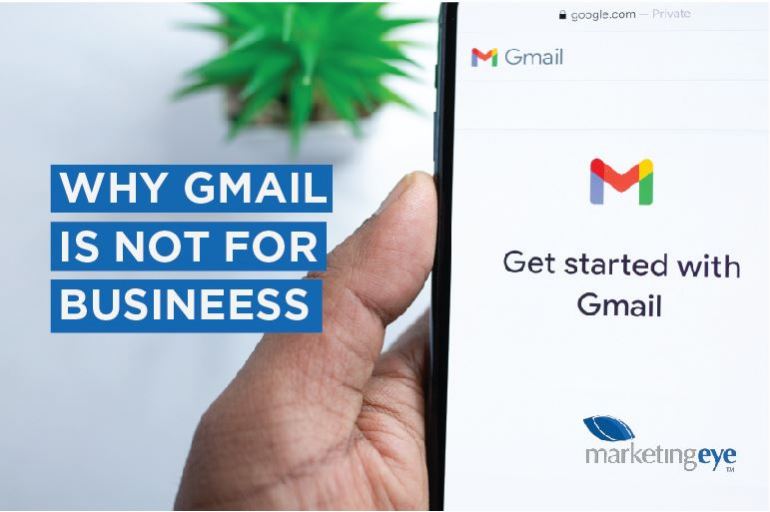 Why GMAIL is not for business
As per usual, our website is flooding Marketing Eye with leads - so many in fact, that we are turning companies that are not a good fit away.

My last call, was very interesting. It was from an interstate online business looking to grow their business-to-business client base.

After chatting for 20 minutes, it became apparent that the business was not suited to Marketing Eye. They pushed to receive a proposal even though I had already told them that they were not suited to our format of working with clients, and then even after saying this, they proceeded to provide me with a gmail address.

Are you serious? Do you think in a business to business environment, that it would be appropriate to provide a prospect or anyone else for that matter with a gmail address? Do you really think they will take you seriously?


This business has been around for a couple of years. They called us - we didn't call them. So, why then do they think a gmail address would be suffice? After commenting on this, they then provided us with an info@ address. Once again, do you think someone is going to take you seriously in a business to business environment providing this email address. Of course, we declined to provide them with a proposal. But this is a great lesson for any business seeking to grow and to be taken as a serious business - do not give out a gmail account or a info@ account. People can tell that you are a backyard business when you do this.

Does anyone else feel the same?

Here are 3 reasons why you should drop handing out a GMAIL address when doing business:
1. GMAIL is for personal use, not business.
2. It shows people that you are a very small business. Always act like a big successful business, even if you haven't quite made it yet.
3. It highlights that you don't know your target audience well enough and their expectations.