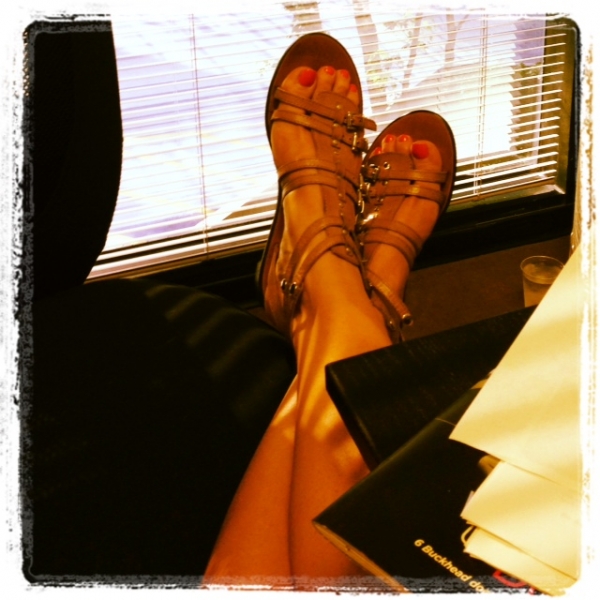 What's wrong with Atlanta's newest marketing firm
Yesterday I learnt that my reference to
Hot Atlanta
is actually not meant to be Hot Atlanta but in fact,
Hotlanta.
Here I am going around thinking I am
uber cool
using Hot Atlanta as reference to the city that I have come to love, all while everyone else desperately wants to correct me, but don't. Possibly because they feel sorry for my constant need to become more familiar with American terms and sayings to help me fit in a bit better and feel like I am really part of the crowd.
Unfortunately, that's not my only failed attempt at "when in Rome, do as the Romans do". At a launch party for
Hublot
and
Ferrari
last night at
Buckhead's hottest bar, Yebo,
I remember walking outside at 9pm and thinking how amazing it was that it was still light, after totally missing an entire thunderstorm with lightning as I was having a fabulous time. Everyone in sync began to tell me how "nasty" the weather had been. Really nasty!!!! I laughed and repeated it to them trying desperately to mimmick their accents.

The use of "nasty" in relation to weather always makes me chuckle, as it is so extreme. In Australia, we would only use this word if a person was being mean to another person - and only if they were being seriously mean.

So I posted on facebook "The weather is so 'nasty' ... I am so American right now lol" - in an instant, 'likes' were being posted all over facebook.

Cookie instead of biscuits, Candy instead of lollies, Bangs instead of fringe, Dish cloth instead of tea towel, Tank top instead of single (men - really??) - the list is HUGE. Believe me!

That's not all. My first Target experience was memorable, not too indifferent to my experience about 6 years ago in Sydney, without the mess (that's for another blog). Maikayla, an awesome marketing executive with loads of personality who is so much fun to be around and with whom I find myself enjoying many laughs extending from her sarcasm and her constant reminder that some of my sayings just don't always translate the way I am meaning for them to - was my partner in crime.

It was a very hot day, so I was not leaving the dog in the car (of course!). I proceeded to walk through Target with my dog in a bag, trying in vain to hide her. A security guy came up to me, and said, "Ma'am, is that a special needs dog". My quick, almost creepy response was "yes" as I began to stroke my dogs head furiously. Clearly he was satisfied that she was a special needs dog and everyone left us alone to walk through the shop and pick up the things we needed to buy. A small price for me to pay to not find my dog suffering from heat exhaustion or worse in the car outside.

As a marketing firm in Atlanta, we are allowed to be a tad "quirky" and to stretch the rules - after all, it is to be expected by marketing types don't you think? The start-up mentality of the marketing team is contagious and laughter is only superseded by long hours of hard work and pushing boundaries.

Somehow burning the candle at both ends is like being 20 years old again, with so many things to look forward to. This is the most exciting time in Marketing Eye's history because we are taking our brand to a whole new level and making it come alive online and offline in a way that is both uncomfortable but exhilarating at the same time.

There are a few things wrong like knowing what to say, when... and there are many things right. So, here's to a successful, fun-filled Friday with the team at Atlanta Tech Village.