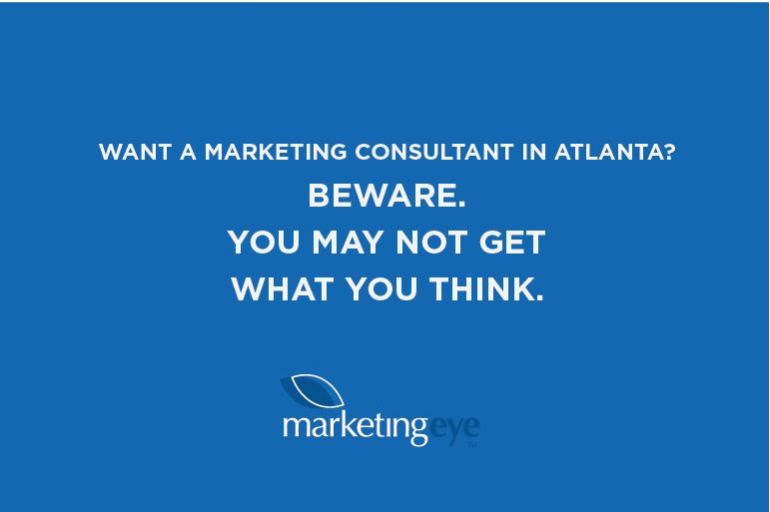 Want a marketing consultant in Atlanta? BEWARE. You may not get what you think.
A marketing consultant is not necessarily a marketing consultant.

From one to another, they are completely different. Some have great skills in strategy, others in tactical development and execution of marketing plans. Some are great at communicating but not fully across social media or what role advertising plays in the digital age.

In the past year, I have travelled the world talking to marketers and each one has something different to offer. They all have honed their skills in one area or another.

I first started my involvement in the marketing industry 21 years ago at an advertising agency that was quite small. I remember watching the owner of the business operate and being completely fascinated by his skills and creativity. He had started his career as a window dresser for a big retailer and way back in the early nineties was making more than a million dollars profit out of 5-man agency. Incredible.


While he was not tertiary qualified, he had a skill that I have rarely seen since then. He was creative but most importantly he thought about the bottom line of his clients businesses.

I once asked, "why don't we do more creative advertising?".

He replied, "because we do advertising that sells."

And there lies the problem with marketing consultants and creatives today. Building a brand is great, but at the end of the day, the business must make money.

Three years ago I employed a guy as a marketing executive in our Australian office and he last a few weeks. He was terrible at most areas of marketing other than writing a direct marketing letter. A few weeks later, with a web developer as a mate, he started up his own marketing consultancy.

Would I trust my valuable marketing dollars with him? No. He simply was not across marketing enough and didn't have a natural knack for understanding a market or demographic.

Recently I employed a marketing manager and while they were in their trial period, I realised that they knew nothing about marketing. In fact, I am flabbergasted as to how they had two good strong references because although he is the nicest person in the world and completely adorable, his marketing skills were almost non-existent. Although we asked all the right questions in the interview and explained how important it was to know all areas of marketing, not just one, I suppose he thought he could wing it. Thank goodness we didn't let him loose on clients, because our reputation would be an tatters. But please let me reinforce what a lovely person he is but not the right person for the job and not a marketing manager, senior enough to drive the marketing efforts of a small business.

When he started working he asked over a series of weeks; "how do you book advertising?" "I have never done a direct marketing campaign, how do you do that?" "I have never written a marketing strategy, how do you do that?" "I have never done social media?" "I have never done PR?" - well what have you done? Well, what have you done? Really? Do people call themselves marketing consutants and are not capable of doing these things? Why do references say that people have done things when they have not? It is not only unfortunate for the company but also the person. As a company, we test people before they go working with clients, but as for the person who has taken the job that they don't have the competency levels for, they hit the unemployment line, or they get another job and the cycle continues for them.

I say BEWARE of hiring a marketing consultant in Atlanta, not because it is Atlanta, but because it is like any city in any country around the world. People say what they think you want to hear, but the reality is, you need results and as a small business, you need to work with people who have "been there and done that".

Which leads me to travel. If your marketing consultant has not travelled in the past 12 months overseas and I am not talking about a trip to Hawaii - then fire them. Without exposure to what is happening in marketing around the world and seeing for yourself how marketing is executed in each different country, how do you understand marketing or push boundaries? How do you use techniques and creativity married with technology to spearhead a businesses marketing strategy? Technology in particular is something that more marketers need to be exposed too. In Atlanta, an awesome marketer told me about a technology that they came across recently. It certainly isn't in Australia, so for me, without meeting this person, it may take years for it to hit the Australian soil and be exposed to our Australian marketers.

Note: The picture attached to this story is in Amsterdam and is of a interior architectural design firm. What did I learn from this company? To push boundaries, think outside the square, use design in ways I never imagined possible, create space, give your team room to be creative and MORE. It was inspiring beyond belief.