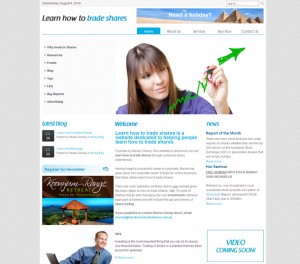 When my neighbour came to me and asked if I could develop a website for her new business, I was thrilled. Here we have a woman in her 50's ready to give up a corporate career to help others like herself manage their wealth better. Well, not exactly help them, but provide them with valuable resources that assist in making better informed decisions.
How many people do you know that have been ripped off by stockbrokers, financial planners etc who are more interested in lining their own pockets then doing what's in their clients best interests? I know many and I too have fallen prey to listening to advice that has derived from the person giving the advice's best interest.
Now, I am definately not slamming stockbrokers or financial planners because I know quite a few good ones. Take Acceptance Finance in Melbourne – they are awesome and importantly ethical. I also know quite a few stockbrokers who only think in the best interests of their clients and sometimes get a wrap over the knuckles from higher management for doing so.
Marise Cheney's www.learnhowtotradeshares.com.au is a website that she will self manage through a content management system which includes a blog. This ensures that she does not have ongoing out of pocket expenses that break her new business budget.
Let me know what you think of the website. Remember it still has a few things to add like an e-commerce component and media kit, but it's 80% there. Congratulations Marise!
FOR ANYONE LOOKING TO HAVE A WEBSITE BUILT THAT INCLUDES A BLOG AND CONTENT MANAGEMENT, MARKETING EYE WILL DEVELOP A WEBSITE JUST LIKE THIS FOR JUST $3990 plus GST. EXPIRES 30 AUGUST 2010. Contact
This email address is being protected from spambots. You need JavaScript enabled to view it.