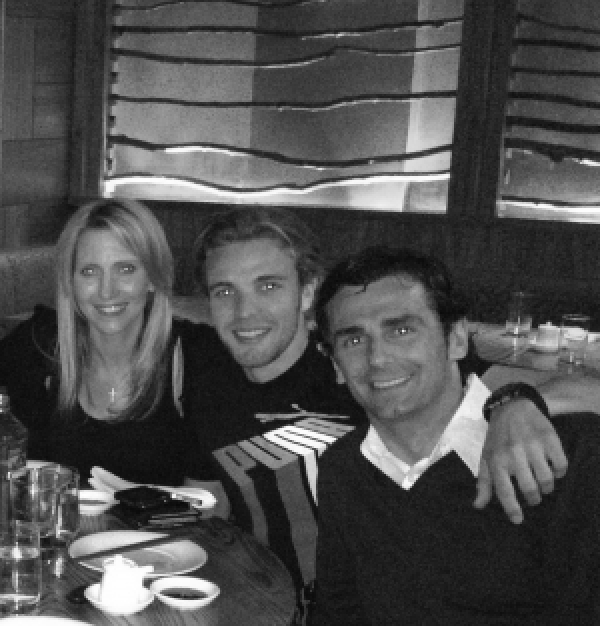 Sportsmen And Entrepreneurs Are The Same - they want to be the best
"It's a lack of faith that makes people afraid of meeting challenges, and I believe in myself." Muhammed Ali
When you look at a top sportsmen or women, they have
two things that resonate with entrepreneurs;
the first is the desire to be the
best
, and the second is that they
believe
in themselves enough to win.

This weekend, Melbourne celebrated the first Grand Prix for the season with the "Qantas Australian Grand Prix".

Spending time down at the track, the buzz was electric. The sound thumped through every single persons body as if they were in the front row of a heavy metal concert and people from all walks of life soaked up every ounce of atmosphere. The sun shined for most of the weekend, the alcohol flowed freely and there were cars ranging from vintage Aston Martins through to Formula One Racing Cars and V8's.

Watching the drivers hop in their cars ready to take on the track known for its picturesque surrounds, I had a sense of knowing. I am not sure exactly what that meant, but I could imagine what it would be like to put on your helmet, adjust your clothing, slide into the drivers seat, do every last minute check as if your life depended on it (and for them it does) and then, on signal, your off. Ready to go. Vroom Vroom.

When you are standing in the pits, the sound thumps through your body as if you are vibrating with the sound of the car. Every movement, every changed gear. It really is an amazing sensation and highly addictive.

Having had the opportunity to talk with many drivers over the years, I am completely in awe of their dedication to their sport and to being the best. They are elite sportmen who put their lives on the line each time the drive a F1 car. They represent their countries, their team, their sponsors and importantly, themselves.

At the top of the sport, there is a sense of knowing that an accomplishment has been made. Even to make the Formula 1 team, is something that signifies a remarkable achievement, that very people in the world can attest to.

I have a good friend who races, whom I have known for 4 or 5 years. When I first met him, he was very young and he was in Formula 3 racing. I thought that was an achievement. Over the years, he has pushed through, worked harder and harder and dedicated his whole life to racing in hope of one day becoming a Formula 1 driver. He has been racing since he was 5 years old in Karts. This is a lifetime of dedication to being the best and working hard to achieve the results he dreamt of achieving way back then. Never taking his eye off the ball. Never giving up hope or not believing that he would realise his dream.

This dream comes with a lot of sacrifice. Little time with family and friends and missing important occasions because he was racing somewhere in the world. Always ordering coke when everyone else is having a beer and going for a jog or to the gym when mates are just hanging around having a good time - are all part of the things they see as part of making sure that they achieve their goals.

Now, he sits on the edge of where he has always wanted to be, in Formula 1.

"If you don't have confidence, you'll always find a way not to win."

So many entrepreneurs have a dream. Many never fulfil it. There are many reasons why they don't, but mainly because they lose belief or they find a reason not to win.

We work with companies that have the confidence to say that they can't do it all, but they want to achieve more than what they are achieving today. They want to be winners. They believe that they can be, if only we can help them get there.

Confidence is important, but it is the desire to win that really puts one entrepreneur in front of another. It may sound competitive, but let's face it - it's a competitive world out there.

"Some people say I have attitude - maybe I do... but I think you have to. You have to believe in yourself when no-one else does - that makes you a winner right there." Venus Williams

If you find ways to fail, then chances are - you will.

If you find ways to win and you work really really hard with preparation and ensuring that you have everything in place to be a winner; like your finances, marketing, management and product/services - you will.

Entrepreneurs can take alot away from our sporting counterparts who have achieved great things. Studying sportstars and their focus on achieving their goals is one way that you can train yourself to keep the focus, do the work and reap the results.

You can't win just by believing in yourself. It takes more than that. It always means sacrifices and it definately means hard work. Are you an entrepreneur on the tip of winning but feel like something is letting you down? What is it? Do you need a coach? Do you need someone to motivate you? Do you need better equipment? Work out what it is that is going to make you win the race, when second and third place is not an option.

BY THE WAY... SEE YOU AT THE AUSTIN GRAND PRIX FROM 16 TO 18 NOVEMBER 2012.