Not into Monkey Business?
Marketing Eye is offering businesses the opportunity to have their own Marketing team and a website created for $500 per week.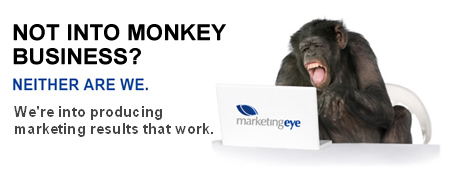 You will receive:
An experienced Marketing Manager and team in your business
Graphic design, branding, public relations and web development inclusive
Developing effective Marketing Strategies
Improved brand awareness
Creating public relations and media opportunities
Developing effective and profitable lead generation campaigns
Creating effective sales tools (brochures, proposals and presentations)
Engagement whit your online audience
Developing targeted promotions
And a FREE* website…
Sign up with Marketing Eye now and you will receive a NEW website that includes your own content management system – valued at $10,000.
Your NEW Free* website will be:
Tailor-designed to your overall branding requirements – No standardised website template
10 individual web pages*
Professionally edited by a copywriter
Designed by an award winning web design team
PLUS you will receive your own content management system.
Your new website will include its own contact management system (CMS), which means making changes to your website will easy- even a monkey could do it!
Creating content is simple with the inbuilt editor, giving even novice users the ability to combine text, images in an attractive way.
People with average knowledge of word processing can create and update the content directly.
You can organise your content any way you want and not necessarily how it will be on your Web site. Your users can rate articles, e-mail them to a friend, or automatically save a PDF.
A CMS reduces time-to-publish, allowing you to get content published faster.
Newsletter Manager – Visitors can register for your newsletters and you can send out newsletters directly from your content management system
Search Engine Optimised with 10 keywords
Gallery – Creating Image gallery was never easiest.
Blog – different blogs, with or without comments, automatic subscribing etc.
Don't miss this unique opportunity! Offer ends 30 September 2010 at 5pm.


*Only available to clients that sign up for a 12 month contract- which equates to $24,000 plus GST per year. Includes 10 pages, additional web pages available at $95 per hour. Does not include the purchase of any images.