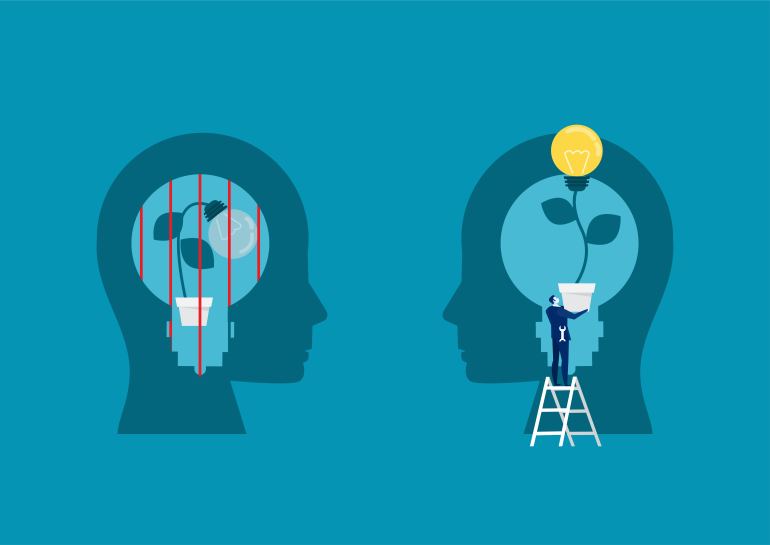 Does Your Accounting Firm Have a Growth Mindset?
Businesses across industries are trained to tackle different problems daily. Employees inherit problem solving skills; however, they may approach issues in diverse methods. Similarly, accounting firms face a unique set of challenges that they must overcome head on to achieve their business goals.
A growth mindset is the idea that you view challenges as something to overcome. You view any obstacle as something to learn from, something that you can defeat with hard work. The idea behind a growth mindset is that by virtue of seeing challenges and failures as learning opportunities and chances to improve, you increase the likelihood of success by believing that you can overcome the obstacle. If you fail at something you may just give up and never try again, but if you see it as something that you can beat with enough work then you will want to try again until you succeed.
We have made a list of some of the ways a growth mindset can help your business.
Encourage Learning
When employees are trained to function with a growth mindset, they can eliminate that all too common feeling of thinking that a task is not even worth trying. It is easy to fall into the habit of thinking that because you can't do something right now you won't ever be able to do it. Harnessing a growth mindset addresses this feeling by encouraging you to attempt things even when you think failure is inevitable, and to treat it as a learning opportunity. Failure doesn't mean you aren't capable; it's means you aren't capable yet.
Learning new skills and exploring new avenues also creates a positive attitude among employees. As an accounting firm, your employees will be encouraged to broaden their skillset and ultimately become more valuable members of your team. By developing a growth mindset, you set up not only the firm but the individual accountants for success.
Build Resilience and Seek Feedback
People often fear failure because they don't want to experience the negativity that comes with it. Having a growth mindset fights this feeling by making you view failure as something to expect and that everyone experiences. By embracing failure, you are encouraged you to try new things which builds a resilience to the feeling that is usually accompanied by failure.
A growth mindset will also encourage people to seek feedback on their work. Feedback is one of the most powerful tools for learning new skills and since the whole idea of a growth mindset is tackling challenges head on, you will need to learn new skills, making that feedback valuable. Providing and receiving feedback is also a way to build trust in the workplace and can lead to employees feeling closer and more connected.
Accounting firms will benefit by having a more resilient mindset to setbacks. Mistakes in accounting can be costly, but they are also inevitable. The best way to reduce the number of mistake and to ensure that people are prepared to handle failure, both from technical and an emotional standpoint, is to have experience with failure.
Challenge Ideas and Nurture Innovation
With improved confidence and new skills people will be more inclined to share ideas and bring new perspectives to the table. As they develop more skills and learn new ways of doing things employees can challenge the status quo and bring improvements to both effectiveness and efficiency in the workplace.
Accountants are under a lot of pressure and with time crunches during the end of the financial year, having a shared pool of knowledge will allow for the development of more efficient methods of doing work. Additionally, the use of more accurate tools or ways to do certain tasks, and a more open discussion about the general operations of the business can create a seamless workflow.
Higher Performance
The obvious upside of having a workforce that is more open to learning new skills is better performance. A wider skill set brings with it the opportunity to overcome challenges that previously would have presented a roadblock. If you reach one of these roadblocks and learn how to overcome it, then you can use that knowledge to overcome it if you ever face it again.
Accountants are responsible for a wide range of tasks and often individuals will specialize in a few of these jobs and learn everything there is to know about it. By having complete knowledge of a single discipline within accounting each person becomes a highly valuable employee. Accuracy is important in accounting work and employees who have experience with a wide range of situations within their specific field will be able to navigate obstacles with confidence to deliver a high level of performance.
A growth mindset can help any business achieve their goals. For accounts, the ability to face obstacles head on and learn how to overcome them is invaluable. A growth mindset encourages learning to improve skills and knowledge, it builds resilience and teaches employees to seek feedback on their effort to further their learning, it encourages people to challenge ideas and nurtures innovation by giving people the confidence to bring a new perspective to the table, and it improves performance by combining the previous points to develop employees that are more capable and can deliver a better service.

Image Source: Shutterstock (1808646727)