Can you make $1 million out of a $20,000 DM Campaign?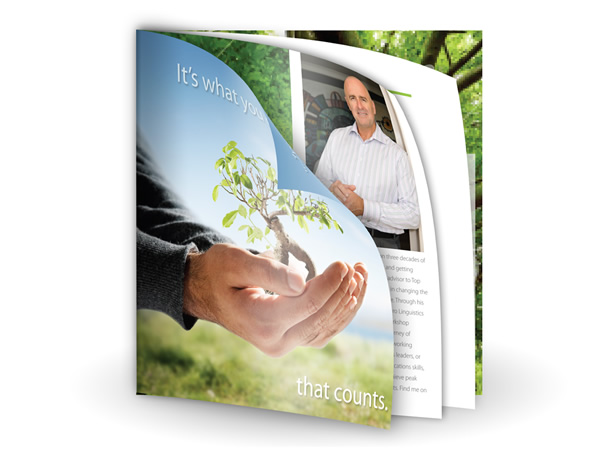 Direct marketing is not just about creativity, good writing or an offer – it's actually a science. Yes, you heard correctly… it is a science.
I have seen some amazing direct marketing campaigns and currently, in the big corporation space, NAB are doing a sensational job or luring consumers to change banks because they have "broken up" with the other banks.
It is creative, it is personal and it's integrated, and there lies the science. If you have a creative campaign, that goes out to enough of your target audience and is integrated into more than 2 or 3 marketing platforms, then the chances are, the campaign is going to be successful.
We don't all have the big budgets of the larger organisations, so doing this on a smaller scale and investing in the campaign, can lead to enormous succeess.
Marketing Eye has been working for the past month on a campaign for one of Australia's leading motivational speakers and trainers, Michael Morgan. He will MOVE your room of employees to a whole new level. He inspires and importantly teaches you how to communicate, influence and engage your audience. If you have a sales team that is a bit flat right now, I suggest you give him a call – quick smart!
The campaign "It's what you do next… that counts" has been an enormous success. The campaign was sent out two Friday's ago in the form of a brochure and postcard. By Monday morning the phones were running hot. People were booking in seminars, in-house training sessions and inquiring about what else epoch Australia can do.
In fact, the figures were so strong from the first 3 days, that we are on track to $1 million dollars worth of sales. I will let you know if they reach this figure.
Now, how is this different from everything else that epoch Australia has done previously ? Well, firstly, we went away from their normal branding realm and created a fresh look without losing their existing logo identity design. We wanted to be fresh and inspire new thinking, so the images depict that. The wording of key messages is very different to previous communications and complements rather than overpowers the visual aspects of the campaign.
To complement the direct marketing campaign that has gone out to 3000 people, we have hired a telemarketing firm who are trained by Michael on the company's key messages – afterall, he is the expert on communications and his courses on telemarketing are a "must-do" for any person who has to sell over the telephone.
There is also landing pages, links to social networks, video streaming of Michael's performances and blogging. Together, this campaign is integrated across marketing and communications platforms and will be followed up with public relations activities.
The investment of the firm is approximately $20,000 and right now, they are sitting on more than $600,000 worth of sales and climbing every day.
NOTE: Marketing Eye has not done epoch Australia's website – however, we will be doing a new one in upcoming months
P.S. If you like this marketing blog, then please feel free to share it on whatever social network medium you see fit. We love
facebook
,
twitter
and
linkedin
!