What happens when your dreams are not possible?
I sat in my office and looked up on the wall.

As I read each of my team members three (3) goals that each of them wrote down for the next two (2) years - I felt proud. Of the three, each of them have one crossed off as of February 1, 2014. What an achievement! I feel blessed that as a team, we were able to achieve this for them and they did it all within 3 months.

Then I looked at mine.


I looked at it long and hard, absorbing every letter and detail, so much so that I could draw for you exactly how it is written, line by line. I only have two goals; one was for work and one is a personal goal.
My work goal is achievable; 1,000 clients over 5 years.
We are on-track to achieving this and will most probably meet this goal in 3 to 4 years.
For that I am thrilled!
But... my next goal;
a personal one doesn't come with the same sense of faith
. I could feel the essence of this goal in every part of my body, so much so that my body started to tingle and I felt this deep pitted pain in my gut that felt as though it would never go away.
All of a sudden I burst into tears.
It's not achievable.
My dream is not achievable. It's never going to happen.
What happens when you realize that your dreams will never come true?
That everything that you had ever set as a goal, that was important to you, had always come true - yet this one thing that you want more than anything in the world, will never ever be yours.
In that moment, I came crumbling down.
I cried and cried. We are told that
"if you can dream it, you can achieve it"
but I have dreamt it and I just know that deep down in my heart that it is never going to happen. I am going to be one of those people who have dreams that are left unfulfilled.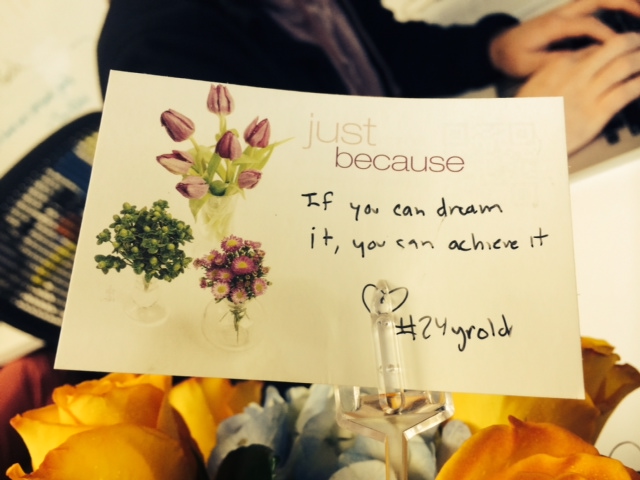 I have never pretended to be the strongest person in the world, nor have I ever proclaimed to
"have it all"
but why is it that that one dream that you want more than anything in the world, is the one dream that will never be yours? Is this something that happens to other entrepreneurs too? Are we doomed for failure because sometimes our dreams are not meant to be?
My glass is half full, not half empty.
Fulfilling your dreams, of which over time I have done so time and time again, is a feeling like nothing else.
So, what do you do when you feel that something isn't as it should be, or that perhaps, you put a dream out there only to discover that it may be too far reaching even for the most ambitious, driven version of you?
Here's what I am going to do:
Re-think my life; what I want to do in life, where I want to go and what is most important to me
Believe that "life is as it should be"
Create my own "luck"
Discard people that bring me down, are self or self-centered, and only surround myself with positive, thoughtful and kind people with the same values as myself.
Make different decisions and sometimes go down that road less travelled
Change the things I place too much importance in that don't deserve my attention
Find different things that will make me happy and smile more often
Never get "stuck" in something people I believe that people expect me to do, say or be something that perhaps is not what is truly going to make me happy
Don't let people abuse my generosity
Be kinder to every person that I meet, and expect no return. Make sure that I give $10 to that man of the street without money for a meal
Give up a minimum of one day per month to charity, utilizing those skills I have have to help them raise more funds to make a difference
Take risks and don't be afraid that I will feel this way again some day.
P.S. Thank you #24yrold for sending me these flowers and giving me way too many chocolate cookies to make me feel better #luckytohaveyou #friends #care