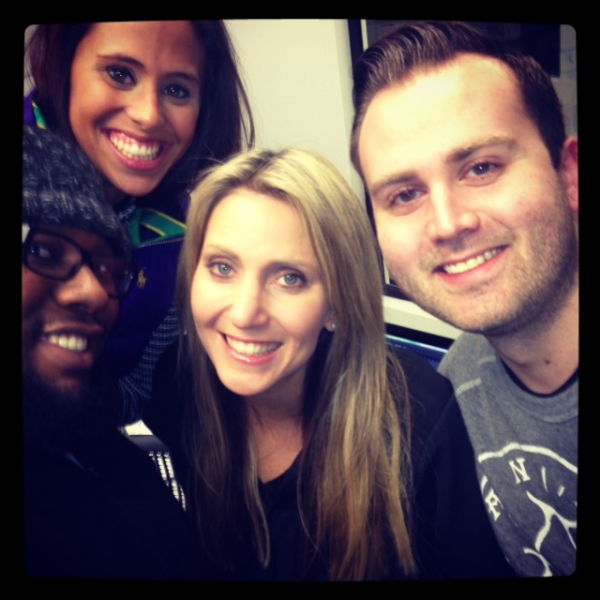 The things that I am thankful for...
It's my second Thankgiving in America and I have to say, I am thrilled. Outside, snow is threatening to fall, with ice lining the pavement, and atmosphere is truly festive. Our team at Marketing Eye is taking the rest of the week off - my way of saying that I appreciate everything they do and the amazing culture that they together have endorsed and grown.
There is so much to be thankful for:
Opportunities: We are all given opportunities, yet many of us can't see it. We only see what is in front of us. I am

not

one of these people. Instead I see most opportunities that cross my path and I embrace them with less hesitation than I did before.


Adventure: As a person that has never thought of herself as adventurous, I have recently realized that I am delusional. While I don't have that innate risk-taking gene, I certainly have an adventurous life that encompasses exploration, travel, pushing limits and a great broad section of diversity in people, places and activities. All of this is at my disposal every single day and I choose to embrace adventure as part of my life journey and one that I will continue to explore.


Financial freedom: Its no secret that I have worked hard and with that has come financial freedom. For 23 years, I have turned up to work and been rewarded with a healthy paycheck. Knock on wood, I have never had to worry about money, and have done it all myself on my own dime.


Passion: I am passionate about two things; work and love. The passion that I have for racing to work each day to fulfill my ambitions as an entrepreneur is as alive today as it was when I first started in 1998. I still have butterflies in my belly and a feeling that money cannot buy when a big deal goes off or I achieve another milestone in my business. When it comes to love, I am a believer and no amount of broken hearts or things that may not have gone my way has deterred myself from thinking that there is a great love out there and maybe I have been fortunate enough to have found it - but if not, I will.


Humility: Every day I find myself becoming more and more in touch with how important every single person is to this world whether they are rich or poor, healthy or sick. In business, women are the biggest self-promoters and I know the pros and cons for this, but I hope that I am comfortable in my own skin enough to not tell you how "awesome I am" and instead show you in the work that I do for Marketing Eye and our clients. Being humble is one of the best traits any person can have and caring more for others than yourself is equal to this.


Family and friends: I am privileged beyond belief when it comes family and friends. As I have matured and now see more clearly two sides to most stories, and have an approach that every person does things for a reason and it may be influenced by a number of things - but doesn't necessarily mean that they are bad or should be crucified. My family is there no matter what. They put up with my tardiness and continual forgetting of birthdays and key events, knowing that one day I will slow down and they remain the most important people in my life. My friends are phenomenal. They are there always. I get messages of support that mean something to me, even without asking. The other day, a friend sent a text when I was having an insecure moment about not being ambitious enough: "Do it your way and you'll be successful, happy and true to yourself". It's these messages that I write on my wall as reminders that I am on a path supported by family and friends that I love.


#pippasmith: A dog is a man's best friend. My dog Pip is more than that - she is the most important person (aka animal) in my life. I take my role as her guardian very seriously to the point where people do think I am the "mad dog lady". I am solely responsible for her happiness and it is my job to ensure that every day she is given love, confidence and experiences that enrich her time on this earth. In return, she has shown me how to love unconditionally, put someone else first, and smile even when I thought it would be easier to cry.
It is great that Thanksgiving gives me time to think about these things and how grateful I am for everything that I have in my life.
Last but not least, I am immensely grateful for my team and clients. Together they make a formidable partnership that pushes boundaries and collaborates in a way that brings reward. My team is full of interesting people with something to add. They shine every single day and work together showing me that I am not alone, but am walking down this road with people who watch my back, believe in where we are going and who know how to laugh.
Happy Thanksgiving!