The Catastrophe of Being Stagnant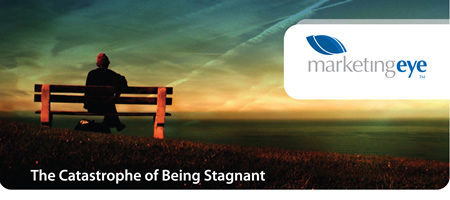 Small businesses around the world suffer from many different things, but one of the worst would have to be getting stuck in a rut of 'just getting by' or being 'stagnant'.Working 'in' the business and not 'on' the business is a very normal trap that many small business owners fall into and then after years of working long hours they wonder why the business isn't in the position that they thought it would be.When you are an entrepreneur, you tend to have ideas. In fact, it is what you lay awake at night thinking about and wonder why the next day you feel a little worse for wear.
Entrepreneurs are known for living on little sleep and lots of adrenalin – it's something that comes with the territory.Marketing is one of the most left to the way-side business activities because quite simply, many business owners don't have the time and often, aren't ready for the big leap of hiring a marketing manager.
Whilst Marketing Eye has built a business on this, there are still many ways in which small business can take a step in the right direction, without losing their arms and legs in the process.
Firstly, you need a strategy. Strategies aren't just for the big guys – they are for any business whether it has one employee or 100 employees. "Fail to plan, plan to fail" is not a famous saying for no reason – after all.
To write a plan, why not search the internet and find a template that works for your business or attend a Marketing Eye seminar and develop your own marketing strategy with the assistance of a marketing director for just $299. To register email This email address is being protected from spambots. You need JavaScript enabled to view it.. Sessions last for 4 hours and come with a workbook, video and a face-to-face plan development session.
Secondly, develop an action plan and stick to it!

You can expect:
A how-to-develop-a-marketing-strategy DVD
A workbook to think about what ideas you have
A marketing director to work with you over 4 hours in putting together a marketing strategy
To walk out of the seminar with a bound marketing strategy ready for you to implement
The seminar will provide you with;
Someone to ask advice of
A group to brainstorm with
Real life examples of what works and what does not
The motivation to take your business to the next level
Book Now: This email address is being protected from spambots. You need JavaScript enabled to view it.
If you are a small business and you really want to grow… then don't miss this important opportunity to have an experienced marketing manager help you develop your marketing strategy.