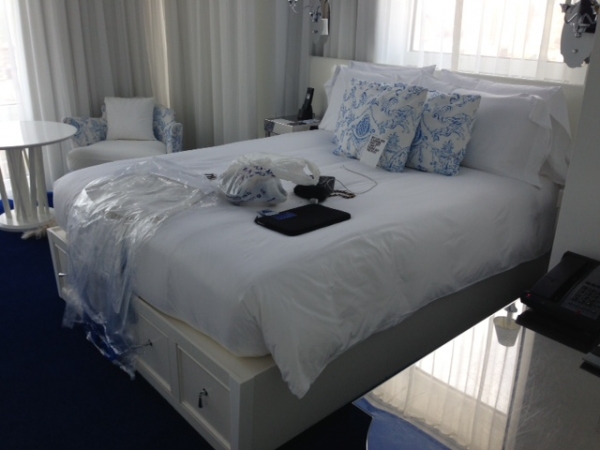 Mondrian, New York - a great place to stay
Flying is like catching a taxi to me. I do it every week and have done so for the past 15 years. I never complain and I would not dare let myself think negatively of the fact that I have to catch yet another flight.

From time to time, I do receive bad customer service from airlines, hotels, taxi drivers and restaurants, but mostly, I suck it up. It has to be something really bad for me to make a big deal about it because quite simply, by dwelling on it, it also ruins my day.

Just over a week ago, I stayed for 4 nights in New York. I am still experimenting which hotels I like the best to find a trusted destination that I will feel comfortable with every other week. One of the hotels which came highly recommended was the
Mondrian in Soho.
As I walked into the Mondrian, I was so impressed by the design. As a
want-to-be creative,
I was inspired by the use of white, wood finishes and modern trimmings. The furniture is to die for and the whole atmosphere is uber trendy. It makes you want to funk up your own style a bit for a few days while you make the Mondrian home.
When I arrived, I went up to the reception area, and I asked if my room was ready. The receptionist said that it was not, but to be brutally honest, she was quite rude about it and her whole persona was arrogant, dismissive and left me feeling like I was lucky to be staying there (or at least so in her eyes). I was frustrated and completely miffed by her attitude.
I ended up waiting on the ground floor for just over 2 hours for a room. About 20 minutes prior to a room being ready, one of the doormen (or perhaps he was conceirge) walked over to me and asked if he could help. I said
, "I am just waiting for my room to be ready."
He said,
"the lobby is on the next floor, it may be easier to wait there."
I said,
"I would rather not, I find your receptionist terribly rude and could not think of anything worse than being around that bad energy."
He said,
"let me see what I can do. I will speak to my manager."
Within 20 minutes, he came back with a room key accompanied by an upgrade to the most exquisite room, large, stylish and with all the comforts one could ever hope for. I couldn't believe that this lovely man who went out of his way, had arranged for this. The view was exquisite from the bedroom, sitting room and bathroom. Everything was simply perfect and very unlike many hotel rooms in New York that are too small.
The rest of my stay was just fantastic. The bar downstairs, Enoteca Isola, is trendy, with great cocktails and a wide selection of wine. The barman is obliging, and very attentive to everyone in his bar and the entrees were mouth-watering.
I had such a good time, I came back to stay again a few days later and the one occasion of bad service was all but forgotten. In fact, I encouraged my friends to eat lunch and dinner there and it is now safely my home away from home in New York. I would recommend this hotel to anyone wanting a stylish, central hotel with a bit of flare.