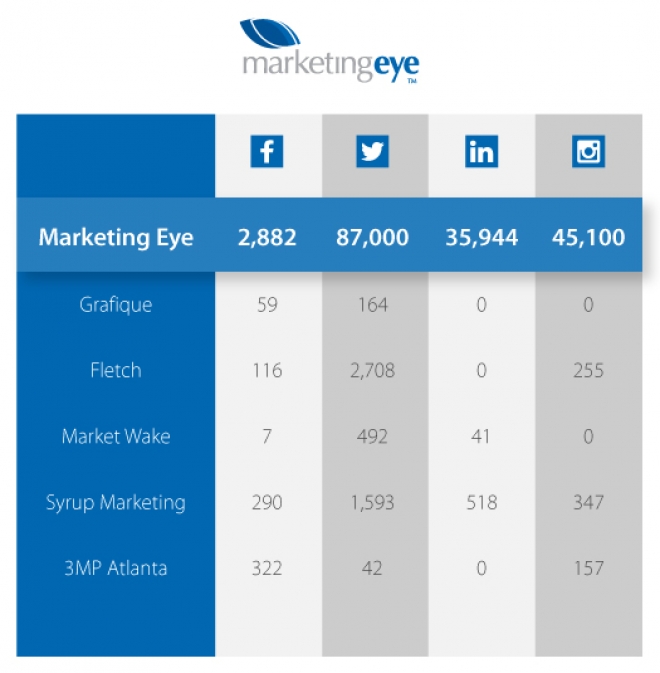 Why your marketing company's social media presence counts
As an avid technology enthusiast, I am always looking up new and exciting technologies that may be instrumental in our clients future marketing campaigns.

One such technology asked for Marketing Eye's competitors, and did an analysis on where they sit from a digital perspective compared to Marketing Eye Atlanta. It was fascinating. Our company is a mere 4 years old in the US, and in year one, we realized that we outperformed all our competitors on Google listings/rankings and all areas of social media. It was something we were very proud of, as we don't spend all day pushing this medium, but a bit over 30 minutes in total including writing this blog.


It took years to be at the point we are today, but it is something we are incredibly proud of and the accolades we receive globally shows just how substantial our capabilities are compared to competitors when it comes to web development, search engine optimization (without spending on Adwords), branding, digital marketing strategy, social media engagement and lead generation through social media and electronic direct marketing campaigns. As we say, "We put our money where our mouth is".

Why it matters?

If your marketing company doesn't know how to use social media to influence your target audience, then how are they going to improve your bottom line and online engagement levels. The answer is, they can't. What they will do is try and sell you on Adwords, buying followers, buying advertisements and writing content that most probably few people will ever see.

What a waste of money!!! They may have the best sales spiel in town, but that matters for nothing if the results don't speak for themselves.

Are social media experts just readers of blogs and books, without any real unpaid wins on the board?

We have never paid for Adwords, and yet we are number one in every market we operate on Google. We don't buy advertisements on social media or likes or anything like that - because, we want real engagement from real followers. How you can tell the fakes is simple. Look at their followers and have a look at how many followers the followers have and also look at whether you can actually follow them back. Chances are in most cases, you can't.

Why you cannot believe a good sales spiel and you need to look at the numbers?

Our following didn't happen overnight, but it did happen. It is an ongoing process that means our leads are inbound with less outbound. We deliver on what we promise, and know how to use social media - not because we read a blog, or book, or did a short seminar, but because we work it every single day and our results speak for themselves.

If you are looking for a social media company, remember that anyone can pay for followers or likes, but organic one's like we have, are priceless. They are real and result in real sales from real customers. Need I say more?

Our brag sheet, without entering into any awards:

#57 Marketer in the world to follow on any medium
Top 100 Influencer in Entrepreneurship (global)
Top 10 Technology Marketing Company in New York
#2 Marketer to follow on Twitter
Top 20 Marketing blog
Top 10 Content marketing solutions providers