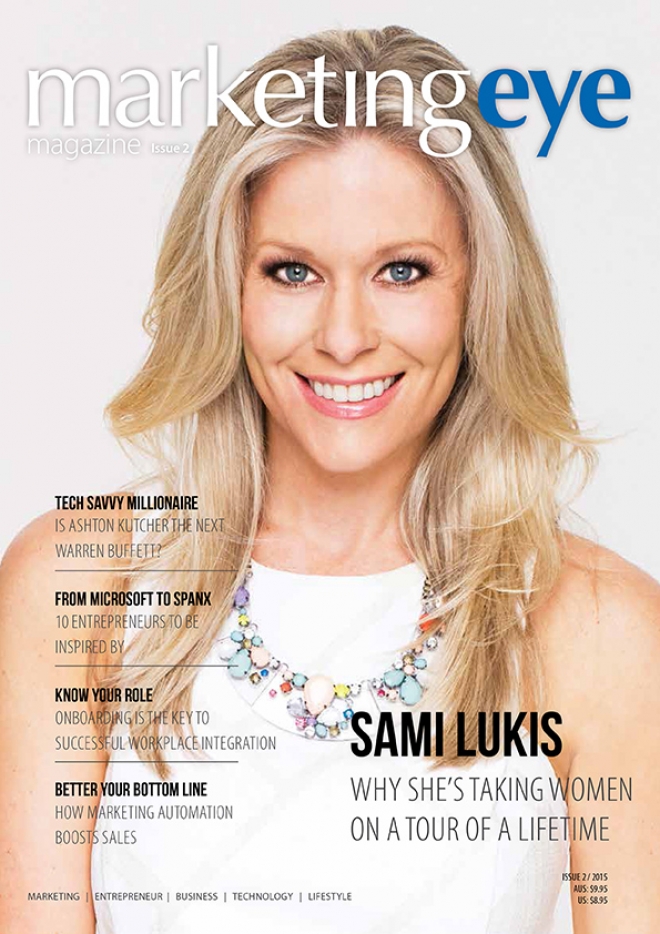 Why you should read Marketing Eye magazine
Marketing Eye magazine is now complete and will soon hit stands and be available online. It took almost six months to get it publishing ready and was a long hard process, but after losing a bit more hair, it was well worth the hard work.
In creating this issue, I have learnt a great deal about marketing, about the client services sector and about staying the course, even when the Tough Mudder founders seem to have come along and put insurmountable obstacles in my path.*
We question ourselves through a natural and healthy amount of doubt
As many people know I have a passion for putting magazines together. For being in the first editorial planning meeting to generating content, building relationships with contributors and then putting the best possible content together.
Getting the first issue out is always tough. You have to ask yourself whether the content is good enough, is it thematically strong enough to attract an audience, will advertisers bite? It's like being back in the schoolyard of a new school and asking 'will anybody like me and be my friend?'
There is doubt when you start something new, but that is healthy. Without doubt there usually comes a blasé attitude that does nobody any favours.
Why we fail
I have had the good fortune of being part of successful publications. I have also seen several go by the wayside.
There are many reasons for failure. First and foremost, everyone has to be on board with the vision. I have worked with publishers who cared little for the content and acquired magazines purely as a revenue generating exercise (with the hope of flipping). This may work in large business, but in a small business everyone from the publisher, editor and sales staff, to the administration executives have to know and show love for the product. If there is any contempt for what is being done, it will be displayed in your print ready version. In the end contempt for product is contempt for the audience.
Another reason for failure is usually market saturation. I learnt early on in this game that if you want to succeed, you have to find a niche. Putting a general fitness magazine together in the current market would just be folly, especially when you have Ultra-Fit, Women's Health and Fitness and Oxygen to compete against. One of the most lucrative magazines I worked on was a bodybuilding magazine, Australian Ironman: it had the perfect audience of hardcore bodybuilders all looking for an outlet in which to display their values … and of course their bodies. Attracted to that audience was the supplement manufacturers and equipment suppliers; it had audience and revenue because it was highly targeted.
There are correlations here with Marketing Eye. This is a successful business because everybody is on board with the vision. It is successful because the company takes on clients that it believes in. It is successful because it helps its clients build specific, targeted marketing campaigns.
And this is now reflected in the magazine. This is a targeted tome with content that has been made with love. And although it was sometimes difficult to put together, the satisfaction now that it is complete is high.
The pay off
This first issue holds a mirror to established marketing practices. It has been designed with sophistication in mind. And thanks to our designers here, it looks like no other marketing publication on the market. But what sets us apart, what gives us our niche is the entrepreneurial spirit that emanates.
For me it is the combination of the last few years of my life: bringing entrepreneurialism and marketing practices together. And I have to say I have learnt a great deal about marketing practices and how entrepreneurs should be applying them – often they don't because they can't see past the big picture. That is a story for another time.
So, I'm looking forward to Marketing Eye hitting the shelves, because like any great and hopefully successful product it's the labour of love that makes it so satisfying.
*Editor's note: Although I respect and admire all of those people who do Tough Mudder, my goal this year is to climb Eureka. I prefer to get high than dirty. Let me rephrase that. I prefer to ascend to some sort of pinnacle than to fall face down in mud.