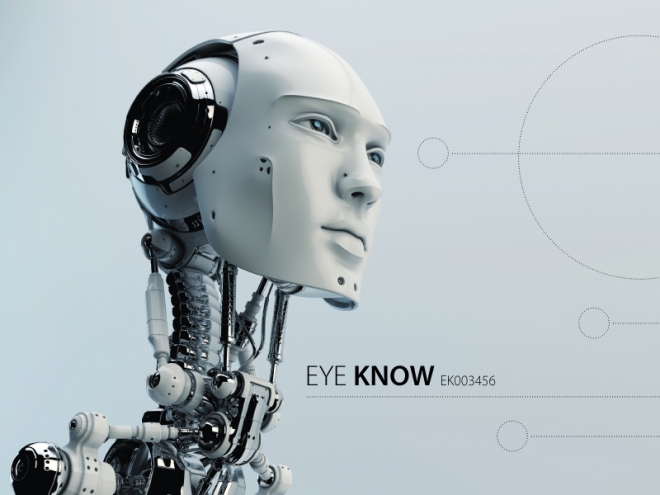 Why Marketing Eye Is Replacing Its Marketers With Robots
You've read it many times before "Robots will never replace humans". Incorrect. They will. They are. And you're job is on the line especially if you are in marketing, and work at Marketing Eye.

Clients are continually concerned with the length of time it takes a human marketer to do the work that they do. Mostly, they are being short-sighted, but equally so, they are right. Marketing Automation took over a few years back for a reason. It took away the time it would normally take a human being to nurture a lead all the way to a sale. All a human needed to do was write the content, but even that is not so necessary today - however, proof-reading is.

Forge more personal relationships
Artificial Intelligence is in the process of allowing marketers to forge more personal relationships with clients than ever before, saving them time, money and sometimes a "lazy" approach by marketers not deep diving enough into a clients competition.
The capacity and scope of a robot to simulate human intelligence is now a reality. The short-fall between replacement of human instinct - is a gap that is so small, marketers live in fear. What will be their jobs tomorrow?
Robotics and Droning
Robots already create truly personalized, meaningful interactions that ensure clients don't realize that they are in fact speaking, connecting, engaging or communicating with a robot at all. The problem that is faced, is not all technology, and not all robots are quite up to speed. It's the hidden one's that are behind the scenes, being hijacked by technology experts in robotics and droning - that have at long last hit the mark.
If you think of search engines, marketing automation, voice and facial recognition, content creation and custom experience capturing - it's a good start to replace a marketer or three. What is now being done, is drone capturing of conversations, engagement and even arguments that are occuring on a day-to-day basis in marketing companies and marketing departments. They not only hear every conversation, and record it, but they use Artificial Intelligence that brings together knowledge, technology, science, art, creativity and human instinct, to provide an unsurpassed robotic replacement for marketers in all agencies and departments.
Replace Marketers With Robots
By replacing a marketer with a robot that has been tried and tested, marketers are forced to learn new skills or explore their full potential in creativity, proofing, over-arching strategy and technology. Humans still need to enter briefs for robots, and include them in every single meeting. Together the mix is formidable.
While this may scare a few marketers, or make others think it is impossible, let me assure you - it exists. It's now. Every marketer has to learn a few new tricks and know that they are not only replaceable, there is a new seat at the table made just for them.
Humans by default will be smarter, faster, more efficient, big thinkers, dreamers and use their time in a more meaningful way for clients. Don't for a second think that robots will create indolent people too lazy to think, get off their backsides or show any creativity. In fact, robots will force big thinking, movement and change, and a creativity landscape that would even put Google to shame.
What's next for Marketing Eye?
No job is safe, but it's just got a lot more interesting
There will be no downgrade in headcount, just more productive outcomes for clients
Clients will not be paying for things that can be automated that are not currently so - win/win
Creativity will not only be encouraged, it will be learned and expanded upon with the sky only as the limit
Every relationship from client to marketer, and marketer to robot will become more personalized
No person today will be in the same job, they will be in one much better, and be guaranteed to leave the office on time every day, with more creative freedom, reading and knowledge based learning than ever before.
Higher pays as the speed to complete marketing contracts will be faster, with clients benefitting, but also with marketers or their newly created positions demanding higher salaries for early adopters.
When?
It's sooner than you think. 2017 is the start of the marketing robot that will sit in every meeting, connecting with drones to record, decipher and expand upon meetings to deliver real marketing outcomes, based on KPI's and analytical adaptation.