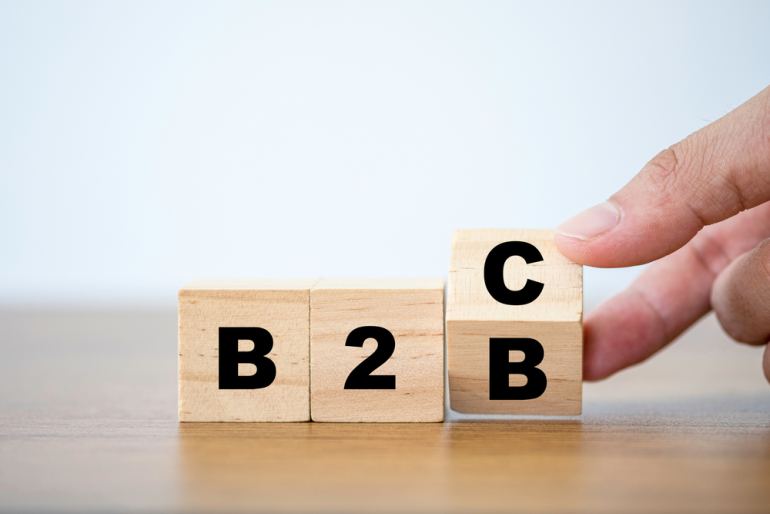 Why is B2B marketing so different to B2C?
The audience for B2B and B2C varies, as do their interaction needs. The content and marketing strategies are therefore customized as per audience type.
Simply put, B2B (business-to-business) companies market for businesses, while B2C (business-to-consumer) companies market for customers. Since the target market for both these companies varies so much, the way they market has to be highly differentiated.
The relationship with your customer is transactional if you are marketing for your B2B company. This is why marketing for B2B companies focuses on "logical-process-driven" purchasing. In contrast, for B2C companies, your marketing may take a more emotion-driven approach to a customer's purchase decision. These differences sometimes need to be clarified and may overlap. Some B2B companies are now taking the emotion-driven approach to reach their target market. But some distinct features can help you create marketing strategies for your B2C or B2B company.
Personalization
Personalization is at the core of B2C marketing. The relationship has to be highly personal, as the customer is the receiver of all your brand communication. If your communication is not tailored for your customer, you will not be able to build long-term relationships. By associating with your brand, customers are put in a level of trust, and a constant touch of communication is therefore necessary. In addition, your brand communication lets your customer know your company's ideals, practices, and ethics. This is what makes your brand "human," and to achieve an emotional response, you must fully understand your customers' needs.
B2B companies are more sales driven and aim to build long-term transactional relationships. Here, efficiency is valued more than building relationships with the customer. This does not imply that the relationship is not personalized at all. On the contrary, B2B companies must constantly strive to develop personal relationships with their clients. But in most cases, the communication between the customer and the business could be more direct. Thus, the primary marketing strategy focuses on sales and high-quality product or service delivery.
Branding
As a B2B company, your main goal is to position yourself as the "leader" in the market for your industry. Therefore, when customers consider buying a product or service in your industry, choosing your company must be a no-brainer. Brand recognition and positioning are thus very essential.
Positioning is very dependent on relationship building in the market. As a B2B company, you must ensure that your product or service is delivered and presented professionally. In other words, your customers must form a positive perception based on the quality of delivery and product standards.
Loyalty and credibility are of utmost importance in building an emotional connection with the audience. As a B2C company, your marketing communication should be crafted to engage your audience. The message you put out must seem like it's coming from a friend rather than a company. Including your customers' feedback in your messaging for future communication makes them feel heard and seen. Your company must also have a dedicated support team to provide one-on-one advice and response to the customers. To summarize, messaging in B2C marketing is what differentiates your company from the market.
Customer's purchase decision
The marketing style varies because the final user varies in B2C vs. B2B marketing. The last user of your B2B company is likely to be a purchasing manager from another company. Thus, your marketing should be directed to this company's representative, who is part of a more significant committee for such decisions. This company will weigh the pros and cons of associating with your company.

The purchase decision is based on "logic," with practical factors like cost, efficiency, benefit, and utility driving the final decision. These decisions are usually taken over multiple meetings. The fact that final associations are called "deals" tells us much about their transactional nature. Both companies seek a win-win situation for profits. Hence, the marketing for your B2B company will revolve around practical considerations with to-the-point communication.
As a B2C company, your customer will likely make a final decision based on personal choices and desires rather than practical needs. We buy many products or services that are not a need. Your marketing has to be based on an emotional connection that makes the customer want to try out your product or service.

Data-driven marketing is essential to capture your audience's attention. When customers begin researching a product in your company's domain, the top links must lead them back to your page. All potential keywords about your product should be covered in your SEO (Search Engine Optimisation) Plan. "Out of sight, Out of mind" is even more relevant now in competitive markets. To stay on top of your customers' minds, curate meaningful messaging and ensure that your social media handles are interactive and responsive to customers' needs.
The goals and the target audience of B2C and B2B companies are distinct. Strategizing for both company types seems similar on the outside, but these factors make a huge difference in the marketing plan. To summarize, B2C customers seek emotional and personalized content, whereas B2B customers favor logic, efficiency, and practicality in communication.