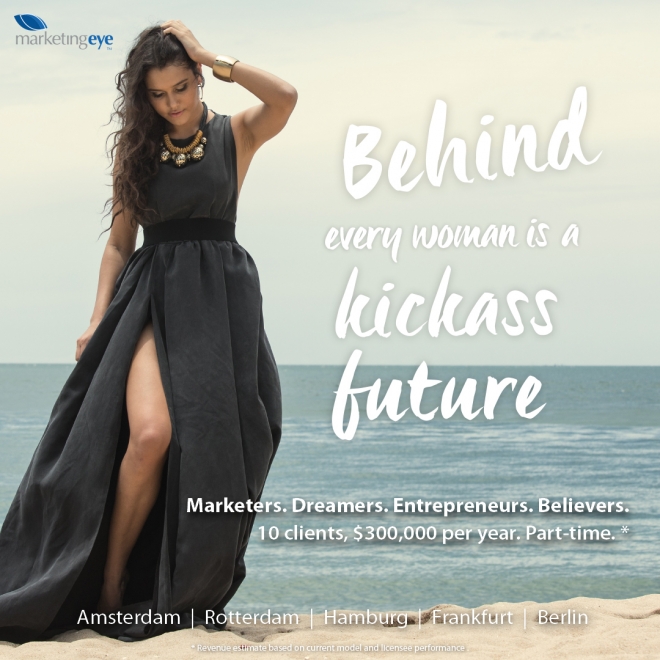 Why Brave People Choose Risk For High Reward
There comes a point in every marketers career where they look at where they have been, and where they hope to go to next.

As a marketer with 24 years experience, it's something that I think about every day, and given that I make my own rules, I am able to find a 'what's next' by being innovative, taking on more of what I like and challenging myself.
Marketing Eye opened up licensing to other marketers who were thinking about what is next in their career. We did it for a number of reasons:
Some people who would have been a good fit for Marketing Eye, and loved our concept, didn't want to be an employee anymore.
As a company, we wanted to increase our own footprint but knew that it is harder to hire people in new locations, then it is to give someone a license to use the Marketing Eye brand and all that comes with it. At some stage, each marketer comes to a point where they choose to stay at the same level, move up the ladder or across into new areas, quit all together or start their own outfit. Starting a marketing company from scratch and ensuring that cash flow gets you through is really hard. It's also a very big investment.
We have systems, processes and learnings that help people become successful. Just ask our licensees in Australia, who are now making more money then they did in corporate in their first year of business.
To expand our footprint, we have decided to give potential licensees the opportunity to buy a license in October 2016 for just $15,000 each in the U.S. If you email us on
This email address is being protected from spambots. You need JavaScript enabled to view it.
we will be able to send you a pack on what the benefits are as a licensee.
Benefit from:
Internationally recognizable brand
Technology tht streamlines processes and improves a customers experience across all levels of engagement
Systems that are tried and tested, ensuring that the ultimate marketing outcomes are achieved through a harder, faster, smarter approach
Ongoing training and development
Education and development on the inside sales model
Support in public relations, branding, graphic design, web development, social media and digital strategies in-house
Brainstorming with other like-minded individuals
Templates and examples of marketing completed for clients including templates
High engagement on website and social media
International magazine Marketing Eye Magazine, giving you a voice and your clients an ability to tell their story
Shared experiences and a team that treats everyone like family.
Licenses will go back up to $25k on 1 November 2016, so be quick. Start the new year, with a new business and a constant, relentless desire for marketing innovation and improvements.