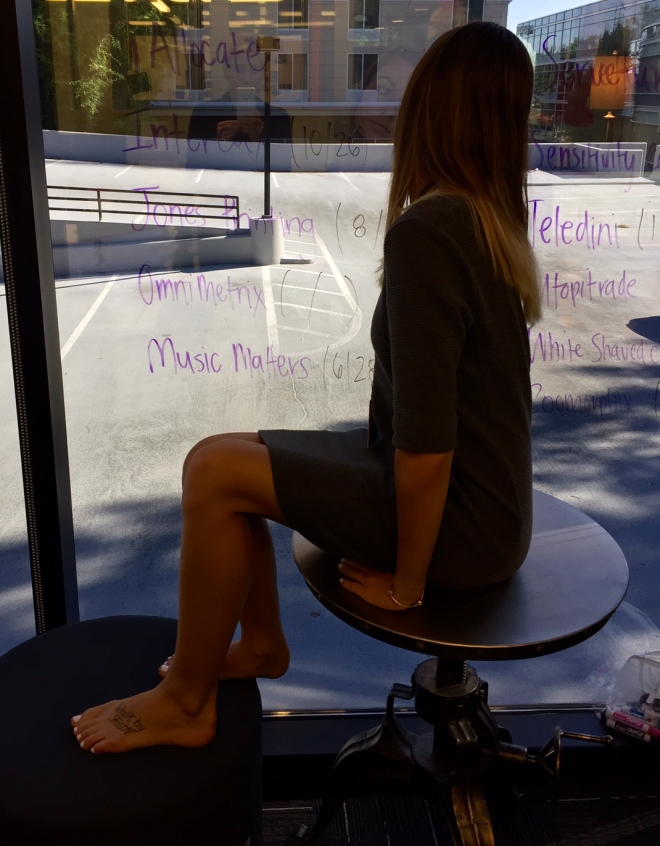 What The New Marketing Team Looks Like: Young, Dynamic and Tattooed
With time up my sleeve, I've had a lot of thinking to do. Innovation is key to performance and success in the future, and if we are not innovating faster and more smarter than our competitors, we will fall to the way-side, and eventually will lose market share whether we like it or not.
We have done the hard yards; new technologies, new apps, new methodology, investment in robotics, and of course in people through technology, training, development and being a tad adventurous with who we employ.
Be never afraid to take a risk
Marketing Eye is never afraid to take a risk. Why should we? What is it that we have to lose? We gain marketshare constantly by what we are brave enough to do or the investments we make, rather than the one's we think about and sit on for years, only to find that competitors have caught up.
Unlike many other professional marketing consulting firms that are looking for a bit of grey hair (I don't have any yet!!!), we go for the best person for the job.
At 25, I was the best marketer
If I think back, at 25 years of age, I was the best marketer that I am ever going to be. I wrote better than any other time in my career. I was more strategic and I knew the game. I had to to be the best and stand out.
Now, with running a company, my capacity to learn new things is being diluted, and it is more important than ever to employ the right people for the right jobs.
I've thought long and hard over the past few years, and fought off the desire to have people my age in the company. Sure it would be great to have people who have had the same life experiences and "get" me but the reality is to grow exponentially you have to hire the best people for the job and they may not look exactly like you expect. That means a lot of millennials walking around the office, doing their 'thang'.
We employ people:
•
From all nationalities;
the more diverse, the more capable we are in marketing to multicultural groups which at the end of the day is important because the countries in which we market are made up of many different nationalities.
•
The odd-ball
is often the most creative person in the group - don't be afraid of quirkiness.
•
Tattoo's in marketing; who cares, if they can do the job, they have job. If they want to be an individual, I am all for it.
•
Dress for the job, not the person.
This is the only issue that job interviewees face in that you do need to look the part, to be the part. If you are client facing, dress professionally. If you are a creative, do as you please. Wear those "kicks" you love that are loud and have personality, with the hoodie that's simply your favorite.
•
Hungover - who cares.
I don't. You're young and you are meant to live life but there is a catch - if you can't do your job hungover then you don't have job.
•
Travel can be the best adventure of your life
and the most important learning curve you could ever go on. So travel as you please. In the US where 2 weeks is the norm for holidays, I personally think that it hinders a marketers ability to be on top of their game. Long weekends, extended leave and definitely a Holiday break is absolutely essential to your performance. Explore the world around you.
Marketing teams needs diversity and they also need to be themselves. What they bring to the table is a bit of their personality, along with what they have learned both on the job and off. Marketing cannot fit inside a box and every time you try to make that happen, you will fail as a new-age, dynamic and market leading company.