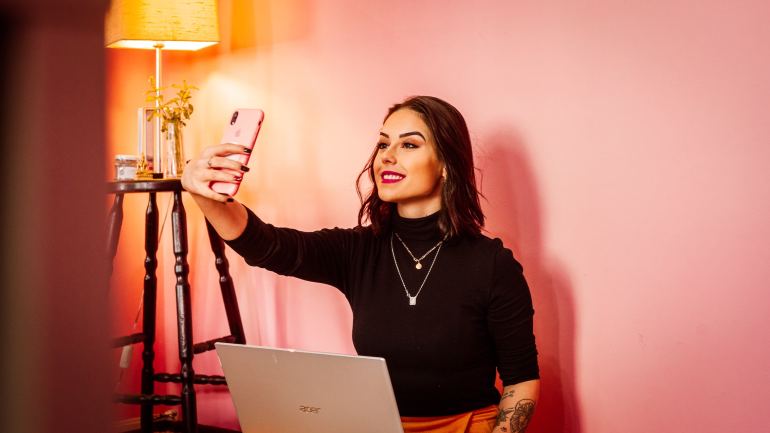 What onboarding into a new marketing role looks like - Marketing Eye
We've watched Emily In Paris, Younger and The Bold Type - all of which are good viewing particularly if you are in marketing. While they do not exactly tell you what a marketing role is like in today's current business environment, they certainly touch on how innovative and creative ways of doing things can turn something that is mundane into an incredible marketing success.

We have a marketing company in Atlanta that services the US market that is a lot less sexy than these companies. Marketing Eye specializes in technology, professional services, logistics and health marketing, thus lending itself heavily to B2B marketing techniques. This means that instead of fun, hyped up Moet launch events, we are launching the newest in technology innovation, health and professional services.
But working in a company like
Marketing Eye
has many rewards, mostly around client satisfaction, ability to perfect your craft and ultimately a sure-path to earn a lot more money in the profession.
When we hire a new marketing professional in roles such as Marketing Graduate,
Marketing Executive,
Marketing Specialist,
Marketing Manager and Marketing Director, we do so knowing that there is a lot of expectation around the onboarding process. From the way we interview our candidates all the way through to how we manage the recruitment process and ultimately onboard and train our people.
The reality about marketing is that not every company does the same thing. For example, our strength is in marketing strategy and marketing workshops, and executing marketing plans from there incorporating lead generation programs, events, public relations, email marketing, social media, website development and optimization, influencer management and so on.
Some marketing firms in Atlanta may only specialize in public relations and communications, while others on advertising and SEO. The fact that we do end-to-end marketing from developing strategy through to reporting on implementation results means that our marketing professionals need to be continually upskilled and trained on all areas of marketing, understand key performance indicators and know how to deliver on their promises to clients.
It's a lot - even for the best marketers and to ensure that employees don't become overwhelmed (not a given) and that they are competently interacting with clients, our training has to be top-notch.
What is onboarding?
Onboarding is the bridge between the résumé screening,
interviewing, and selection of
a job candidate and the annual review measuring how that employee is performing in their marketing role. It should be customized for the employee's role and speaks to their capabilities going into your company and where their gaps maybe situated.
How does onboarding a marketing professional look like?
Onboarding must be different for every individual however, it does need to have a foundational platform that allows for the basics of the role to be communicated and training to commence. Typically, in our
Atlanta-based marketing firm
, we don't have the same environment as our Australian operations - especially due to COVID, so we adapt.
Interview process
During the interview process, we simply get to know the person. Unlike many marketing companies, we just want to know more about our candidates dreams and aspirations so we can actively identify whether or not we can help that person achieve their goals.
It's particularly important that everyone is honest in this first stage interview because if they are not, it can lead to a major fail - and no-one wants that.
Questions that are asked:
Tell me about yourself. I would love to hear your story.
What are you most interested in when it comes to marketing?
What do you like to read, listen to and enjoy?
What's your short-term and long-term career goals?
What is your biggest strengths and where are you challenged?
What do you like in an office (virtual or physical) environment?
How can we make you more successful?
With that out of the way, its important to share with the candidate more about the role. We do so by providing an onboarding recruitment deck that takes the candidate through the role and what it is like to work for Marketing Eye. An example of a
recruitment deck
can be found on our website.
After second and sometimes third interviews, we then start the process of providing an offer to a candidate. This will be after reference checking and a review of their social media platforms. Often who they like or comment on particularly on LinkedIn helps us understand what their values are, expectations and interests. It is more important than ever with work from home situations that employees expectations are met and that we all have shared values.
When a job offer has been accepted, the reality is that the green light isn't there until the person actually sets foot in the door (so to speak) and even then as an employer, there is a few weeks to consider. Many people looking for jobs are also interviewing for others. Some take the first job that comes along, while others look for the perfect role to take them to the next level. Some take the job that they feel would be great, only to be offered the dream job they thought they wouldn't get. There are so many scenarios so the onboarding process must be staggered as you don't want trade secrets to go to their next workplace.
Day One and Two
The most important day of any new relationship. First impressions count. As a marketing consulting firm, we need our new employees to come up to speed with clients and our company. Reading tends to be part of the first and second day, with some videos and audio recordings.
We try to give new employees an onboarding gift pack to show them how excited we are to have them part of our team. That may consist of a candle and book, sometimes champagne and chocolates or flowers.
Day Three to Ten
Easing new marketing employees into their roles is important. Allocating one (1) hour a day to training and the rest of the time to practical work.
Training Modules include:
Account Management:
How to run a client account
Delivery process
What success looks like
What failure looks like
Tech stack
KPI's, Analytics and Reporting
Marketing Strategy:
How to use Robotic Marketer Technology
How to conduct a marketing workshop
How to onboard clients to Robotic Marketer Digital Dashboard
Frequently asked questions
Public Relations:
Media strategy
Social media PR strategy
Communications with media
Training clients on working with media and sound bites
How to write a media release
What a media list needs to entail
How to use Robotic Marketer for media lists
Digital Marketing:
Website Overview
SEO
Adwords/PPC
SEMRush
Google Analytics
And so on. For more information on how the schedule runs for onboarding a marketing professional, click here.
Give a shoutout to
//unsplash.com/@matcfelipe
" for the picture on this marketing blog.