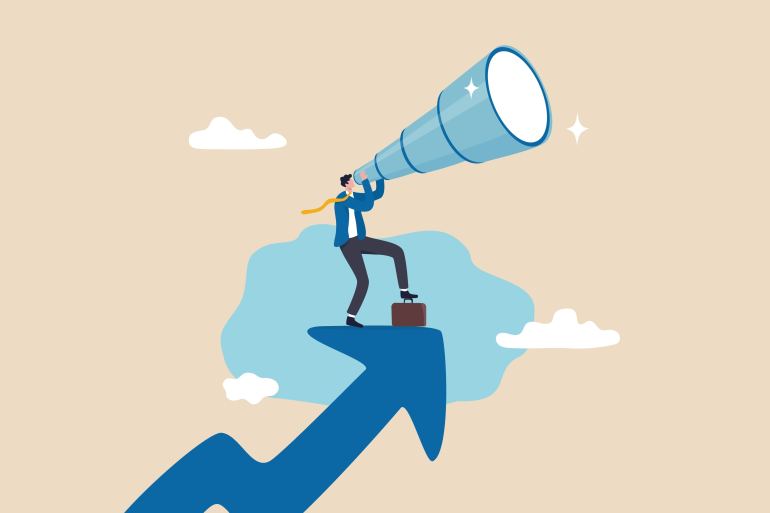 What the Future of Marketing Might Look Like
"The future is made of the same stuff as the present." The French philosopher Simone Weil quoted this in the early 20th Century. But unfortunately, this statement is unrelatable in today's world, where science has moved so far ahead that new products are innovated at every moment. Besides, we as humans have always been fascinated by the prospect of what lies in the future. Whether it's the launch of a new cell phone or a new AI-driven electric car, we as humans have always looked forward to adapting to recent trends of the future.

Even though the future is exciting, it is challenging to predict what lies in the future. Often, the prediction is not always accurate. For instance, people in the 70s and 80s thought that by 2020 we would be using flying cars to commute to the office. But, in reality, we were fighting the biggest catastrophe in the world, which brought the office home.
What an accurate prediction it was, wasn't it?
However, it is significant for economists and scholars to predict the future. This is because it helps them to understand the trends that might catch on in the future. Similarly, a marketer needs to observe such patterns, which might become the future trend in Marketing. Here are some of the predictions:
Metaverse: The actual "Multiverse."
Metaverse started with virtual reality gaming almost a decade back. However, its significance soared in the past few years with the introduction of cryptocurrencies. These virtual currencies allow people to make in-game purchases predicted to be a billion-dollar industry in the next few years.
Furthermore, the trading of non-fungible tokens in these 3d virtual worlds is also growing slowly, with many entertainment companies and musicians selling digital copies via this medium. In fact, many sports teams like Manchester City have developed virtual stadiums for fans to experience live soccer games from their home. However, even with such progress in the metaverse, it is still believed to be in an infant stage.
Thus, marketing in this virtual reality could indeed become a thing in the future. The upcoming generation is attracted more to the digital experience. Hence, it would be of great importance for marketers to address their customers in a virtual first mode in the future. Additionally, Generation Alpha is not just going to be tech savvy but also less loyal to the brand as well. Hence marketers would require engaging with them and creating experiences suitable to them to attract them to the brand.
The rise of Martech
AI has been here for a while and is gradually becoming a part of people's daily lives. While it might take some time for AI-driven devices to become mainstream, it is safe to assume that intelligent machines and digital assistants would be responsible for suggesting different products and services to the next generation. Furthermore, there is a possibility of future dependence on more AI-driven solutions for consumers. For instance, chatbots are already around us for a while. With the introduction of voice interactions with Alexa, Siri, and Google Assistant, all the future daily chores might be handled by them for the Alpha Generation.
Therefore, one needs to familiarize with the term "Martech," which refers to the connection between marketing and technology. With such significant technological development, the role of marketers has also changed drastically with the introduction of different marketing tools and analytics. The part will further enhance with the increasing dependency on artificial intelligence in the coming future. In fact, AI would be one of the most reliant technologies to gather information about consumers. Ultimately, the arms race will determine whose AI solution is better suited to the consumer.
Forget the 4Ps; Welcome 4Es.
"The illiterate of 21st Century will not be those who cannot read or write; they will be those who cannot learn, unlearn and relearn." – Alvin Toffler.
This should be the mantra marketers need to adopt to succeed in the future. For a long time, 4Ps, i.e., Product, Price, Place, and Promotion of Marketing Mix, were considered the leading theory for value proposition. However, it is not effective anymore. In the current scenario, with such high-level competition in the market for different products and services and the younger generation's attitude towards a particular brand, marketers need to customize their approach toward value proposition with the adoption of 4Es.
4Es embody Engagement, Experience, Exclusivity, and Emotion. Nowadays, people don't just buy a product but buy their experience and emotion instead. Furthermore, the most successful brands not just sell products but also the feelings attached to the product. Hence, it would be necessary for marketers to communicate various universal values while advertising for the brand.
The Influencer's Influence
Most of the younger generation venerates famous influencers on social media, whether they are YouTubers, bloggers, or vloggers. The influence of these people is predominant and on the rise, as they can relate directly to the audience. Internet users are more willing to buy a product recommended by their favorite influencer as they find them to be genuine and trustworthy. Influencers connect with the audience much more quickly than celebrities; hence, their impact will significantly affect the upcoming generation.
Marketers predict that influencer marketing to replace the age-old celebrity brand sponsorship. With the rise in social media, especially with Instagram and TikTok, influencer marketing would be effective with the influencers having millions of followers and cost-effective as well.
User Generated Content
Word-of-mouth publicity has evolved over the years and gained more importance. With the rise in social media, people straightaway go to social media to write about their positive or negative experiences. Hence, user-generated content has and will have more impact in the future. This user-generated content can become a part of marketing strategy shortly. For example, customer reviews on a website landing page can be used in blogs and websites to attract customers and improve the number of visits to a business website.
The future often seems much more far-fetched than it actually might be. Hence, to remain relevant, marketers need to pay attention to various indications and patterns and prepare accordingly for any change in the future. Younger generations don't trust any brands. They are more skeptical and suspicious about what they hear and see on the internet. Hence, brands need to be honest and genuine to attract customers.
On top of that, they need to offer value to them to gain their trust. So, one cannot just move on with the current strategies to attract them. Marketers need to change their thinking from what should I sell? Or how should I sell? So why should I sell?

Increasing digitzation and innovative technologies are paving the way for the future of marketing. As marketers we must progress in thinking about how we can align our goals with the future.

Image Source: Shutterstock_2084968093

Written by Falak Savla