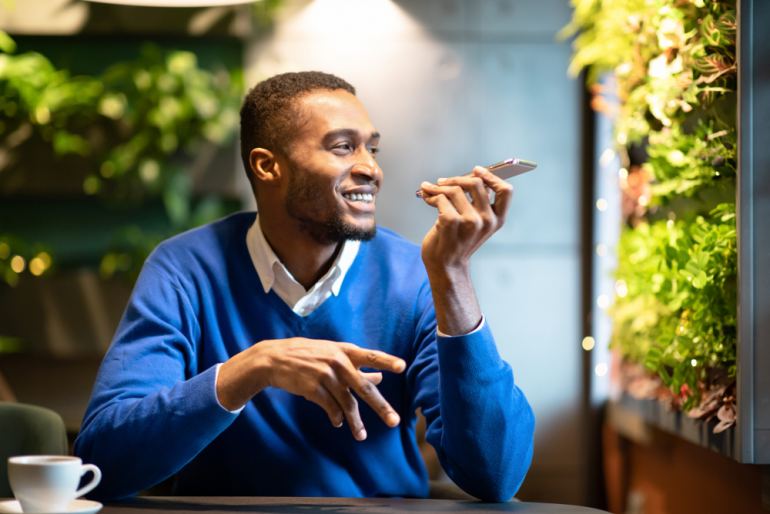 Top 5 Strategies for Climbing the Voice Search SEO Ladder
If voice search optimization isn't a part of your SEO strategy, it's time to change that.


More people than ever are now speaking into their watches and phones and are increasingly becoming reliant on them. With the addition of smart speakers like Google Home and Amazon Echo, we are experiencing a voice search revolution. According to Perficient, 55% of users use voice search to ask questions on a smartphone. The ease of speaking into a phone and getting an instant response is unmatched – no typing or spelling mistakes necessary, just say what you need, and you've got your answer.
Marketers must create content that is optimized for voice search. With competition becoming increasingly intense, you don't want to be at the bottom of the voice search SEO ladder. In fact, you don't even want to be second. Voice search, for the most part, is a winner take all system, and much like Highlander, there can be only one.

Here are our top 5 strategies for improving your voice search SEO:


Know your consumer and their device behavior
With any marketing strategy, the most integral consideration is to know your consumer. Different types of consumers will use voice-enabled search in different ways.
You must understand the purpose for which a consumer will use voice search and find your business. Do you operate in a service based in an industry where customers want to come into your restaurant/salon? Or do you operate in a retail industry where consumers are searching for products online? This will help differ whether your consumers are more like to ask "where" questions or "what" questions (amongst other things). Is your consumer asking their question to their phone on the go, or are they asking their Amazon Echo at home? This will help establish whether they want more or less information, and how much time they have to consume that information.
Know your conversational keywords
The keywords we use when we type differ significantly from the keywords we use when we speak.
When we type up a question on a device, we usually skip certain words to make our search easier. For example, we might say "nearest gym." Alternatively, when we use our voice, we are more inclined to ask the whole question: "Hey Google, where is my nearest gym?" For this reason, you need to understand how to interpret natural phrases as opposed to how consumers would usually type them in. A text search may include only 1-3 words, whereas a voice input may be closer to 9 words. We also need to consider long-tail keywords and filler words. When speaking, a consumer is likely to use longer words, as well as phrases like "me," "I," "when," "where," "how," etc. Since they are often ignored in a typical search, we need to adapt our voice search to include these additional pieces of information.
Improve the Loading Time of your Website
Website loading has a direct impact on the success of your voice search SEO. When Google released its Speed Update, it abandoned any websites that took too long in voice search queries. This is because it harms the user experience, and users are more likely to ditch a page that takes too long to load. Additionally, load time also influences bounce rate as well as conversion. Therefore, by improving the speed of your website, you are also contributing to better voice search SEO.
Restructure Your Content for Succinct Answers
Differing from the usual Google Search, many voice search users may want a richer response, like someone talking to their phone is likely to prefer a concise answer. Typically, an answer should be no longer than 29 words in length. One way to restructure your content is to update your Frequently Asked Questions on your product pages and blogs. Since FAQs contain keywords and short answers, they will qualify for the prerequisites of voice search ranking.
Another tip is to use pointers to break your content into smaller sections. This will help Google to pull that content from your website for a response.
Claim your Google 'My Business' Listing
Mobile devices are perfect for on-the-go queries. Commonly asked questions when out include 'find an X near me' or 'where is my closest X?' By having a Google My Business listing, it lets Google know that your business is located in a particular place. This will increase the likelihood of your business being listed in a voice search. Choose the right categories for your business and provide the appropriate area code to Google, as this will increase your visibility and likelihood of being included in the search pool.
It's no wonder why consumers are navigating over to voice search: it's faster, hands-free, allows you to multitask (plus you look pretty cool while you're at it). Don't fall behind the latest advancement to SEO. Ensure your business remains relevant by increasing their potential to be included in the convenience that is a voice search. If you're interested in more information about SEO & Marketing strategies, why not read our blog or get in contact with our team today, to see how we can help you.