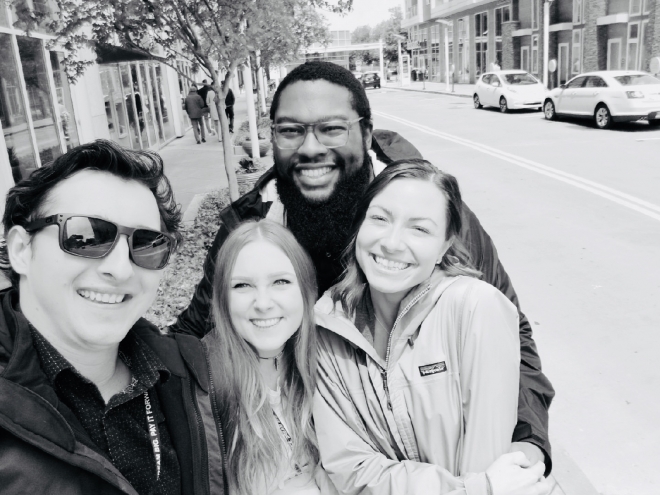 This is What Loving Your Job Looks Like
Enjoying your job seems to be a luxury most people never experience, and we can all agree that it shouldn't be. Spending 40 hours a week at a place you loathe is hardly a way to live life, yet so many people choose to live this way.


Starting a career with a new company can be nerve-wracking, especially at marketing agencies as they tend to be high-stress, fast-paced and demanding careers. Not every company believes in being fully transparent with their potential hires, ultimately doing themselves a disservice.
At Marketing Eye, we are proud of the way we operate, and we love where we work. Here is an inside look at the ideal marketing job:
We Are Family
Everyone has a voice and is encouraged to speak up, collaborate, and share ideas to deliver our clients the best results. Our team truly understands how important it is to feel valued by the people you spend most of your week with, and we take great pride in this strategy.
While the job is challenging and requires serious diligence, having a supportive team to keep you laughing and motivated throughout the business day has proven to strengthen and increase the teams overall productivity.

Incredible Clients
Helping clients take their business to the next level encourages our team stay motivated to deliver the absolute best results. It is instilled in Marketing Eye's roots to work with clients who are a good fit and want to see aggressive growth.
Working with small to medium-sized businesses is rewarding in multiple ways. Our team take the time to learn what business goals are essential to our clients and then we create strategic campaigns to exceed those goals. Our continued consulting then prepares them for internal and external expansion. For this team, our client's success is the ultimate reward.
Personal Development
Mellissah Smith, the Managing Partner and Founder of Marketing Eye, is a huge advocate of personal development among her employees. She takes the time to hear her employee's professional aspirations and long-term goals and then provides them with opportunities to make those dreams a reality.
Whether she is suggesting upcoming marketing conferences to attend, encouraging her employees to write new blogs, or showing her team how to develop themselves as credible marketing professionals, Mellissah Smith is always pushing her employees to reach their potential. Working for someone who wants to see you succeed is rare and incredibly rewarding.
Taking Pride
It's incredible to work for a company where everyone is proud to tell people where they work.
At Marketing Eye, each team member wears multiple hats and no day is ever the same. The Atlanta team has been working together for years, and each person delivers a unique passion for marketing, adding value to the company as a whole and creating an exciting place to spend each day.
Whether you are looking to explore new career opportunities within marketing or you are looking for a trusted marketing team for your business, you can search far and wide but what Marketing Eye Atlanta has to offer is almost impossible to find. Take a look at our
career opportunities
or
give us a call
today to speak with one of our lively Marketing Executives.