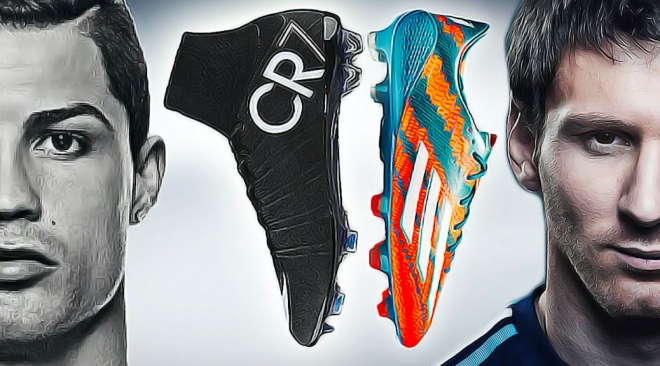 The Clash of Fútbol Kings: A Marketing Jackpot
Written by Ariana Przybyszewski
Lionel Messi and Cristiano Ronaldo are the two biggest names when it comes to soccer. The rivalry between them has created some of the best match ups the sport has ever seen. Records are broken every week and a hat trick is something that is expected every game, not just on rare occasions.
The two completely conquer the athletic world. With a combined 138 million Facebook fans, they have the largest followings of any athletes. The two clubs they play for, Real Madrid and Barcelona, are some of the most profitable teams in the world. When the two clubs come together, the clash between them is known as "El Clasico," being viewed by about three times the amount people who watch the Super Bowl. It truly is a clash of kings.
Two major companies have jumped on this rivalry and twisted it to their marketing advantage.
Adidas decided they wanted Messi to be their soccer icon when he started being known as the best there would ever be. He has had several deals over the years with his current contract being worth $40 million over the next few years. Adidas launches a new cleat every year that is supposed to be the same ones the star himself wears out on the pitch. They look the exact same, and claim to feel the same. The idea behind this is that if you wear the same cleats as Messi, you too can be a soccer legend. And boy does it work.
Adidas has made billions from its Messi line, making $2 billion just this past year. When Messi broke Barcelona's all-time scoring record in 2014, Adidas put out a limited edition cleat to celebrate his success. The cleat sold out within the hour in the United States. By making a deal with Messi, Adidas set themselves apart as leaders in the soccer market. However, they weren't the only company.
Ronaldo may not have made his claim as a soccer god until a few years after Messi, but it took Nike no time at all to see his potential and make a deal with the Portuguese star. He is about to sign a new contract that will be worth $50 million over the next five years. Nike has created the same idea that if you wear the same cleats as Ronaldo, you can become a soccer star. And just like for Adidas, it has worked wonderfully. Nike rakes in billions of dollars every year from their Ronaldo, CR7, cleats.
Adidas and Nike have both made themselves global leaders for all soccer gear because of the players they chose to be the face of their brands. The two legends have created images for the brands that can't be competed with.
Need help making your brand stand out from the rest and tough to duplicate? Give our Marketing Eye Atlanta Office a call at 404-626-8070 or send us an email at
This email address is being protected from spambots. You need JavaScript enabled to view it.
.