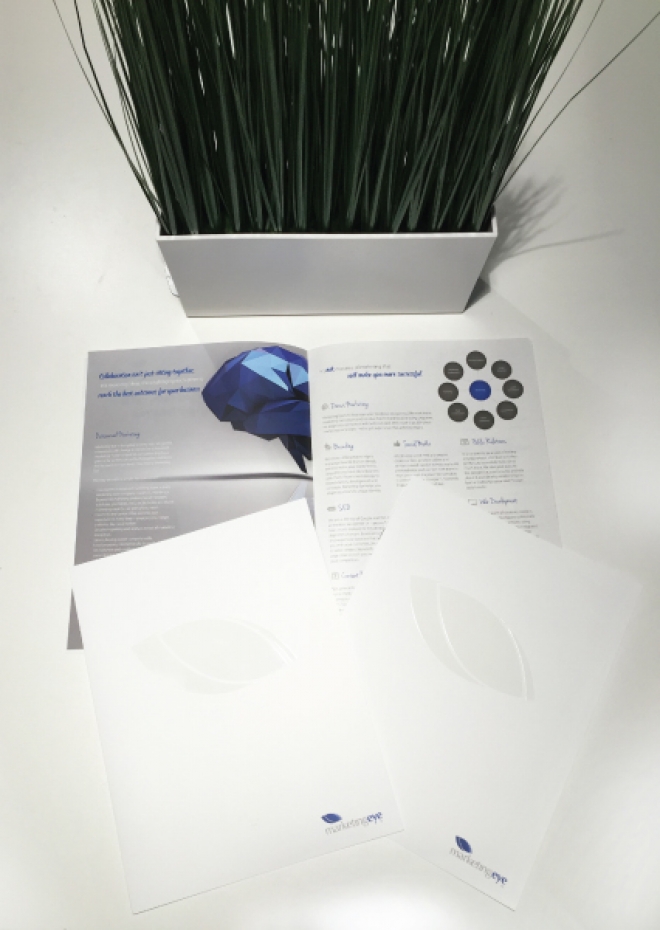 The Cheeky Way To Say To Prospects That Direct Mail Still Gets Your Attention
Yesterday I spoke with Instagram and Snapchat king, Jeremy Jauncey, for a story in the Marketing Eye Magazine.
He talked about why pictures tell the story more so than any other format whether it is in one picture or through a video.
I couldn't agree more. Looking at a picture, it does tell a thousand words.
So, we decided to try it out, with some good old-fashioned direct mail. 1,000 LinkedIn connections will receive our brochure in the mail today in Atlanta and I am very interested as to what they think the brochures says about our company, Marketing Eye.
To put together the brochure, it was a team effort. They decided on the content, what pictures showcase both our capabilities in design but also company culture, and what information we should share or wait to share.
When I first thought about whether or not to do a "cheaper" EDM campaign, or a more expensive Direct Mail campaign, the answer was easy. How often do we receive quality direct mail pieces in the mail? The answer is never. People short change the expensive old way we mail each other information and somehow miss the point.
We want this direct mail piece to say something about Marketing Eye. Our plans to grow our client base in Atlanta by 60 new clients over the next 10 months means that we need to be communicating with more people. Why not start with our 26,000 linkedin following?
If you receive the direct mail piece, let me know what you think? Do you like our brochure? If you do, ring Jones Printing and get one done for yourself that showcases your company culture, brand, and what value you give clients. I am sure if you ask for Dale Ford, he will be only too happy to help and his prices are competitive.
Important tips:
Quality over quantity in both your mail list and your printing

Test and learn from the results: do this with both creative, offers and market segments

Analyse results

Followup professionally and integrate into a marketing communications strategy that includes electronic direct mail, telemarketing, and perhaps even a followup postcard.

Connect with all contacts on all social media: LinkedIn, Twitter, Facebook, Instagram and Snapchat
www.marketingeyeatlanta.com