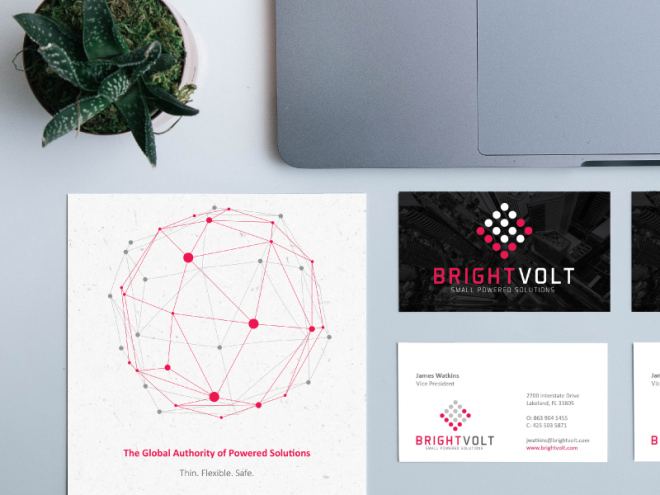 Tell Your Story with Marketing Eye Graphic Design Services
Translating your brand visually is no small feat. Graphic design is a powerful tool that not only showcases your brand colors and logo, but it tells a visual story of your company and your industry. Telling a visual story is an integral part of selling your products, especially in a digital age. If your competition has a stronger visual presence, it gives them a much greater advantage over what your team is doing. Without a professional, high-quality visual presence, the quality of your products and services won't matter much. When you partner with Marketing Eye, we help your business break through the clutter and stand out from the crowd.
BrightVolt is a power solutions company that brings superior battery products to the market with a global reach. Their rechargeable solid-state batteries power all types of applications, including hybrid and electric vehicles, smartphones, laptops, eReaders, drones, as well as medical and wearable devices. To continue to grow, BrightVolt needed to separate itself from outdated branding and values. Marketing Eye developed a 12-month marketing strategy, including a complete brand overhaul. Their new branding visually embodies the values and vision of the new structure and focus of the business.
Johnson Stephens Consulting is a supply chain operations consultancy firm that provides its clients with cost-effective, service-focused solutions. JSC has completed over 400 projects and serviced over 130 different retailers, wholesalers, e-commerce/direct-to-consumer, 3Pls, and consumer products, distributors. They needed a branding refresh to communicate to their customers that they are a modern company using the latest technologies and best practices to support their clients. Marketing Eye provided a complete branding overhaul, including a comprehensive marketing strategy, compelling marketing collateral and a freshly optimized website. Johnson Stephens' new branding reflects their forward-thinking and modern approach to their business in the supply chain industry.
Robotic Marketer is an AI-based marketing solution that builds marketing strategies for companies. Using a combination of machine learning, data scraping, and artificial intelligence, Robotic Marketer is designed to simplify the job of the marketer by writing a more thorough, comprehensive marketing strategy to deliver the highest possible return on investment for those companies. Using a simple color scheme and logo, Marketing Eye helped bring the brand of Robotic Marketer to life. With clean and crisp colors, Robotic Marketer's modern aesthetic supports the vision and mission of a company that is looking to change the world through artificial intelligence.
How Marketing Eye Can Help
Marketing Eye approaches each client's business with a change in mind. We believe in investing in and exploring creative boundaries. Our team has extensive skills that can bring a total refresh to your business's brand identity. We specialize in graphic design, branding, identity marks, logos, advertising, brochures, signage, website design, and so much more. Contact us today to optimize your branding experience for your customers.