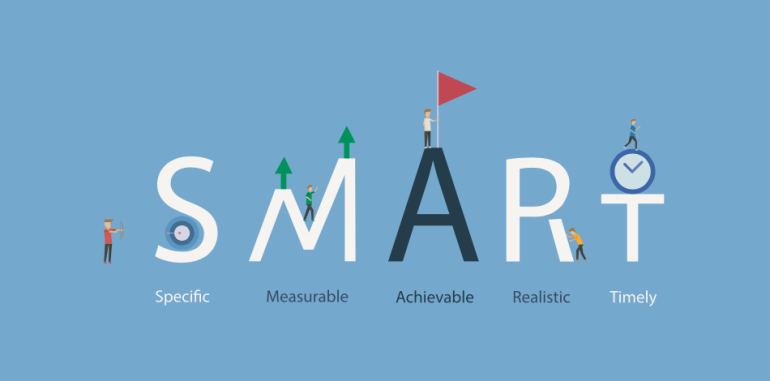 SMART Goals in Marketing, What and Why are they important.
Written by Felicia Tedjagutomo
You might have heard about SMART goals and are familiar with the term. But do you actually know how to apply the method and make it worthwhile to yourself? SMART goals are tools that guide you to clarify your aim, analyze and identify rooms for improvements, and make it real. SMART stands for Specific, Measurable, Attainable, Relevant, and Time-bound.


Specific
To begin with, clearly define your goal to be as specific as possible. Use some support questions to determine your goal. To help you with some leads, we'll provide you with some questions that you might find helpful, such as:
What marketing goal do I want to achieve?
By following those questions above, at least you will have some structure for setting up your goal.
Measurable
By measurable, it means trackable.
Set a number to KPIs such as leads, conversion rates, return of investment (ROI), etc. Assigning a specific number to your goal will help to keep you on track and size the progress along the way.
Attainable
Is your goal achievable? Try to collect data to know where you stand. You may aim high but stay realistic. A goal that is too high and impossible to achieve will only give you extra work and a waste of effort.
Relevant
Try to think about it again, how relevant your goal is to your long-term marketing objective? Discuss it with other team members, will the goal make things easier and align with the primary purpose and value? For example, if the ongoing campaign doesn't work effectively for a long time, then try to change to another campaign.
Time-bound
Determining the time frame is an important part of the method. Set a time frame on how long will it take you to get the job done? Otherwise, your goal won't be achieved. Imagine if you don't set a time frame for your goal, you won't have the drive to get it done within a certain period. Nothing will push you hard enough and your goal will be neglected.
Why do SMART Goals important?
Not only it will increase the chances that your objective going to be achieved, but applying the SMART goals method is also beneficial in many ways, for example:
Team Solidarity: Maintain everyone on the team staying on the same page and heading in the same direction by setting up the same goal.
Data Application: Help to make use of the data you have collected.
Task Priorities: Determine which task should be done first.
Time Tracker: Keep the time trackable for the long-term period.
How useful are SMART Goals?
Below 10 goals are examples of marketing goals with the SMART method applied throughout the process.

1. New products and services introductions
The SMART goals help the team to come up with new ideas for creating content and collecting customer data. A goal-setting process such as the SMART method will help you determine what marketing strategy suits the best to complete each step from the way of collecting data customer, new content planning such as commercial ads and product demonstrations, and certain blog posts.

2. Escalate website interactions
The SMART goals will help you identify which strategies are the most effective to apply to observe the website traffic. From there, you can increase your brand presence and post online advertisements on the new site.

3. Social media marketing strategies
Social media has now become a common platform for digital marketers to advertise their content. The SMART goals will guide you on review the analytics to specify areas of improvement. Followers' behaviors will be monitored and decided whether they align with the initial goals.

4. Find new leads
Leads are potential customers. In this case, SMART goals help increase the percentage of recognizable leads and turn them into customers. Also, it could help improve your current strategies to be more effective by using customer data for the targeted content.

5. Customer satisfaction
Customer satisfaction is a major point for marketers. This is because customer satisfaction opens a gate toward new leads. A fully satisfied customer will recommend it to their social circles. SMART goals will evaluate the engagement protocols of the customers and grow loyalty among them.

6. Growth of online reviews
By applying the SMART method, you will figure out which digital tools are the best to encourage customers to write online reviews. Thus, the team can allocate the time to spend more efficiently on other parts of the marketing strategy.

7. Increase in-person promotions
In-person promotions, which are sometimes used by marketers to build brand awareness, can be concise through the SMART method by comparing its effectiveness with digital tools and deciding the most useful strategies for promoting content in a particular area.

8. Build an email audience
Email subscriber list is also one of the common go-to techniques for marketers. Studying customer trends and optimizing schedules with the SMART method will increase time efficiency. It will also discover the most effective methods on communicate with subscribers and increase the number of the list.

9. Re-brand a company
Re-branding a company is often used to grow a business. Utilizing SMART goals in this situation determines your priority of tasks, such as updating website design as the first step of the process. It will help you shorten the time on unnecessary long processes and allocate time to a stage that needs more effort such as creating a strategy to expand clientele.

10. Establish leadership in an industry
When talking about establishing leadership in an industry, it means trust. Implanting trust through answering customer queries on the company's website and building up the bond is needed. The SMART method will increase the chances of making customers loyal.
Setting up a goal might not be easy and may seem like an impossible task sometimes. However, that is what SMART goals are made for. It will help you and your team to eliminate unnecessary processes and distribute the time wisely on achieving your goals.
Image Source: Shutterstock_1666152061