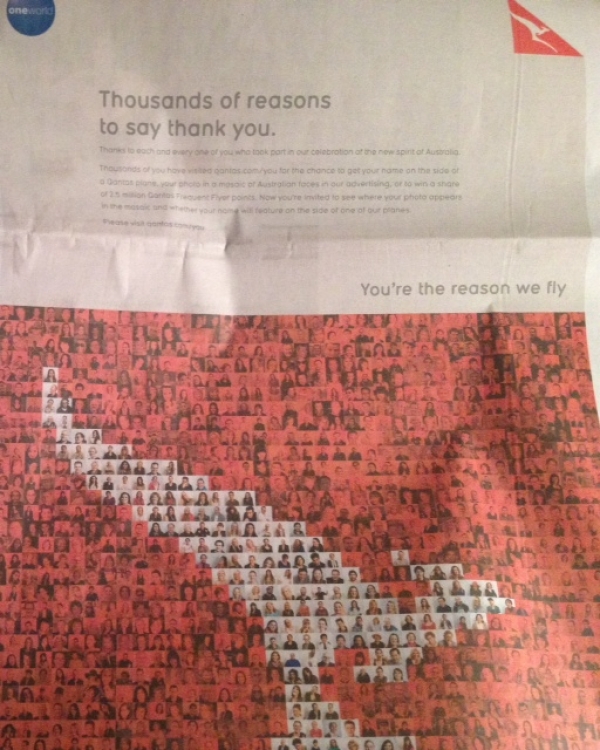 Qantas, you are the reason we fly
Qantas is running an international campaign "you are the reason we fly" and I am quite impressed by their agency's work on this campaign.


I don't know if you follow what has happened with Qantas over the past 12 months, but they have had some major disasters, which quite frankly, have little to do with management capabilities, and everything to do with Unions trying to justify their existence.

With strikes holding up flights and delaying some passengers for days on end, surely Pilots and airline staff cannot be thinking that the general public will be feeling sorry for them. Here we have highly paid pilots whose families fly for just 10 percent of the price of an airfare and are guaranteed first preference over customers who are loyal and looking for an upgrade - and still with all their perks, they feel hard done by.

It was complete rubbish and I for one, did not feel sorry for them. In fact, I was quite annoyed with the constant barrage of voiceovers on every flight asking passengers to support them. What kind of business allows that type of continual annoyance of their loyal customers? If Qantas employs offshore, they only have themselves to blame.

In any case, Qantas is on the rebuild. Their Marketing Manager Lewis Pullen is an exceptional talent with many years experience in the airline industry. I am sure under his guard, these campaigns are being railed out with much thought and in tune with the target audience.

I also was impressed to see Miranda Kerr as their new "face of Qantas". She is apt choice for a company that has promoted John Travolta for many years and as much as he appears to be a great guy, some of the bad publicity is definately at a point of sticking. Qantas cannot afford to associated itself with that.

Congratulations Qantas on your marketing campaign - it's brilliant!