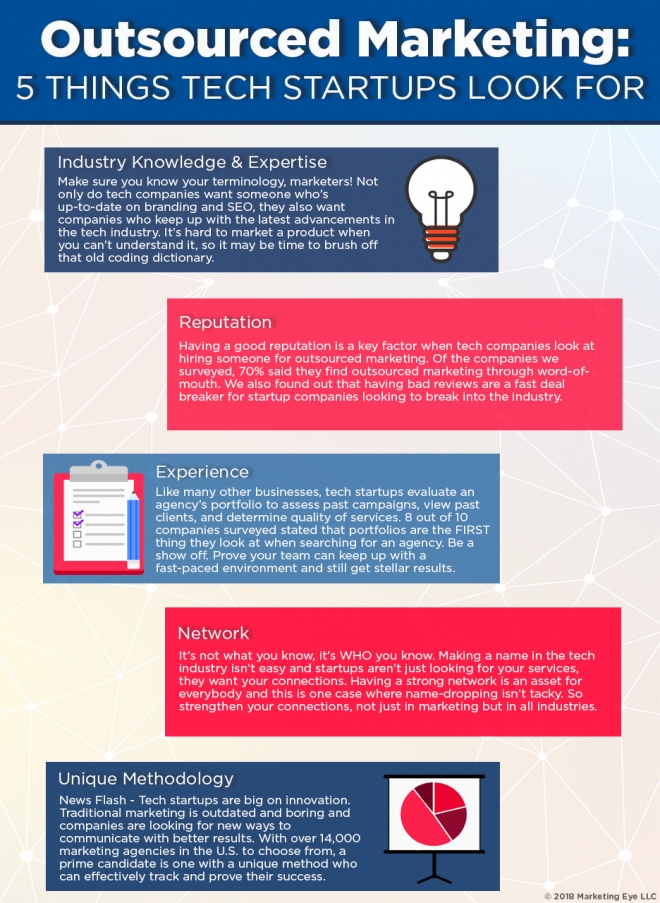 Outsourced Marketing: 5 Things Tech Startups Look For [Infographic]
It's no secret that technology is one of the fastest growing industries today. From software developments to virtual reality, technology is a field with endless applications and possibilities. But just like any other industry, innovation is a business and successful businesses need marketing.
Marketing strategies, just like technology, are intricate and complex; and tech startups want the best of the best when outsourcing to an agency or a freelancer. So what does a prime candidate for outsourced marketing look like to a technological company that's just starting out?
Industry Knowledge & Expertise
Make sure you know your terminology, marketers! Not only do tech companies want someone who's up-to-date on branding and SEO, they also want companies who keep up with the latest advancements in the tech industry. It's hard to market a product when you can't understand it, so it may be time to brush off that old coding dictionary.
Reputation
Having a good reputation is a key factor when tech companies look at hiring someone for outsourced marketing. Of the companies we surveyed, 70% said they find outsourced marketing through word-of-mouth. We also found out that having bad reviews are a fast deal breaker for startup companies looking to break into the industry.
Experience
Like many other businesses, tech startups evaluate an agency's portfolio to assess past campaigns, view past clients, and determine quality of services. 8 out of 10 companies surveyed stated that portfolios are the FIRST thing they look at when searching for an agency. Be a show off. Prove your team can keep up with a fast-paced environment and still get stellar results.
Network
It's not what you know, it's WHO you know. Making a name in the tech industry isn't easy and startups aren't just looking for your services, they want your connections. Having a strong network is an asset for everybody and this is one case where name-dropping isn't tacky. So strengthen your connections, not just in marketing but in all industries.
Unique Methodology
News Flash - Tech startups are big on innovation. Traditional marketing is outdated and boring and companies are looking for new ways to communicate with better results. With over 14,000 marketing agencies in the U.S. to choose from, a prime candidate is one with a unique method who can effectively track and prove their success.