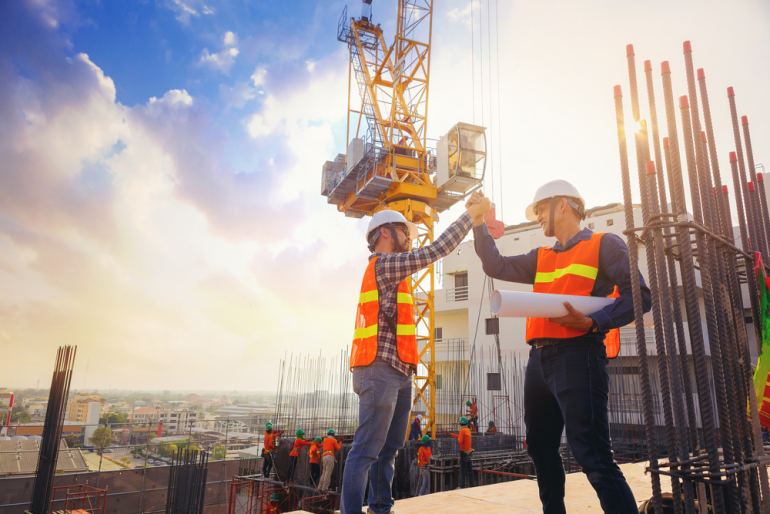 Marketing Strategies For a Construction Company to Drive Sales
Written by Austin Papamikroulis
We are in a day and age where everything is digital, whether you have come to terms with it or not. We are amid an industrial revolution, where we are seeing industries like construction having to revamp its services and approach.

Even in the world of construction, a loving amount of marketing can do absolute wonders, positioning themselves high amongst competitors as well as drive sales through the roof.

1. Positioning, Positioning, and you guessed it…. Positioning.
No one is saying that your company must be dead center of attention amongst the market. However, finding your footing is key in increasing visibility. Identify how your construction company is performing in comparison to market leaders, then utilize and exploit YOUR strengths.
Be your own center of attention, take advantage of the fast-growing industry by establishing a strong online presence. There is no consistent formula regarding creating the perfect digital presence, but there are strategies that you can adopt to maximize the potential of this.
Does your construction company offer the best framework for its value? Tell your clients. Are you a family business that treats the clients as if they were one of your own? Emphasize this and make it clear to your clients.
You maybe not be a tech-wizard, nor are you a marketing guru. The best way you can increase your sales is by creating an authoritative, substantial website with a service that makes your clients want to invest their hard-earned cash into your business, it is that simple.

2. Optimize User-Experience
Your online website should be more than just black and white, it should be a pleasurable experience for a viewer that leaves them taking a residual element of your business. 52% of users say the main reason why they won't return to a website is because of the aesthetics. No-one is saying to add unnecessary clutter all over your page, but rather create a service that feels accessible and alive via digital platform.
Add an interesting component that differentiates your construction business from competitors and ride with it as mentioned. One of the biggest components which seems to be neglected within the construction field is the 'Portfolio of Clients' section. You have made it this far, especially during the pandemic, for a reason. Don't ever be timid or take advantage of that, illustrate, and tell the world what you have done regardless of significance. This demonstrates both professionalism in how you can meet client expectations and perform, as well as a consistency.
People are more compelled to go through with a purchase of a product/service if there is a demonstrated history of excellence and results.

3. Converting viewers to clients - SEO

You may have made that great website where you are bringing in hundreds or even thousands of viewers, but you may be struggling to bring in legitimate clients. A little friend of the marketing community, SEO, is designed for this exact problem. Optimizing your website regularly needed, so if you haven't gotten into that routine yet, at least now you know to stay on-top of it. Before you even say "but we're a construction company, what would I even need SEO", think about what you are truly missing out on. SEO optimization makes your websites as attractive as ever to suitable clients.
You may get less views, but at least you are getting more sales, which means potential long-term clients. Utilization of keywords and phrases in all aspects, your website, product/service information, social media platforms, etc. Your google ranking is everything in this generation. Start targeting searches that directly links those words to your company, be specific, be bold. You are truly not maximizing your company's potential if you choose not to utilize this. When we say put 100% of your focus into this dimension, we mean it.

4. Social Media – Keep posting content

It doesn't matter if you're a Millennial or Gen Z, anybody and everybody is on social media. If you want to increase your visibility and generate more sales via marketing, social media is one of, if not, your best tool to generate sales. TikTok approximately has about 80 million monthly users in the United States alone. Whether you're promoting via organically or inorganically, exposure is still exposure. We encourage you to try to post daily content, whether it is the development of projects, sustainably gathering of your materials, services you provide or tips for overall construction enquiries. Varied content like this will appeal to a large market/audience, and there is nothing nowadays like online promoting. Once you're trending, you want to continue on this trajectory.

5. Email Marketing
No, we are not talking about about traditional marketing. Email marketing also facilitates and provides insightful data in particular open rate, click rate, unsubscribes etc. This data can then be evaluated and allows you to create more direct marketing to solidify and increase engagement. Perhaps by staying subscribed, the client may be offered free video tutorials on topics of their choosing, or free quotes, enquires. Give consumers a reason to stay engaged with your company, which will potentially lead to a later sale.
The benefits of this are on-going, it's cost effective, messages can then be personalized which improves Customer Relationship Management (CRM), can offer insightful information regarding the company and its product/services etc. Even if you want to stay traditional, reward loyal or engaging clients with gifts and packages prompting them with further purchases. A little appreciation goes a very long way, so make this marketing element something personal.
There are so many ways marketing can be used to increase sales, but it is the fundamentals of how you approach them and how you execute them. Anybody can simply promote nonsense but promoting something that truly impacts people will most definitely conclude to a sale. Simply follow these 5 tips and you'll see the changes in client quality and sales you've been dreaming of.