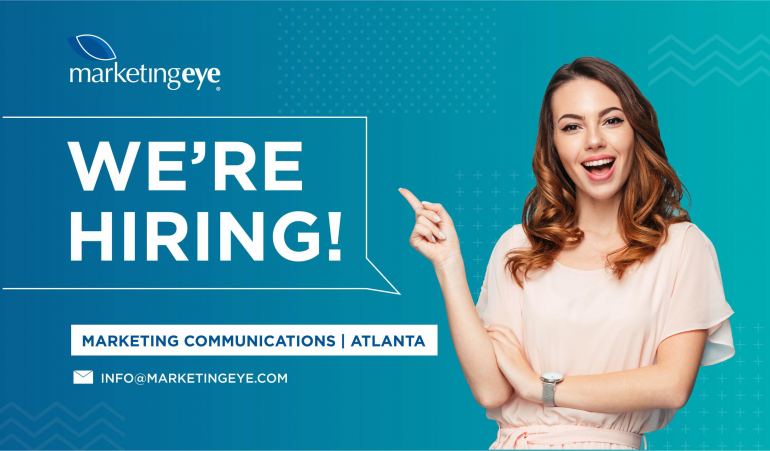 Marketing Communications Manager roles in Atlanta
It's a new year, and many marketers are seeking to take their careers in marketing to the next level. Marketing Eye Atlanta has an incredible opportunity for a marketing communications professional to work across multiple clients and industries, while at the same time developing their skills in marketing consulting. Working closely with the Atlanta-based team, this role is diverse, content-driven and will help the successful candidate with developing skills in digital marketing and technology platforms associated with marketing performance.
Marketing Eye is looking for a new Marketing Communications Manager to join the US team based in Atlanta, GA. The Marketing Communications Manager will support the growth of the US business and will be responsible for managing the marketing needs for clients and the company. This role is diverse and will include conducting marketing workshops with clients, implementing marketing campaigns, content creation, digital marketing and public relations activities.
PRIMARY RESPONSIBILITIES:
Conduct marketing workshops with clients across multiple industries using Robotic Marketer technology (training will be provided)
Drive the implementation of marketing strategies for clients
Head up content creation for multiple clients; brochures, social media, digital campaigns, website content, blogs etc
Run marketing campaigns for Marketing Eye in US market
Manage Marketing Eye's US websites
Creating content for social media platforms including LinkedIn, Facebook, Instagram, Pinterest and YouTube
Help maintains positive client relations with new and existing customers to discuss their needs and how to best utilize our solutions to achieve their intended outcome
Brainstorm with team on client marketing requirements
JOB REQUIREMENTS:
Over 3 years of experience in marketing communications
Degree in Marketing and/or Communications
Strong content writing capabilities across multiple platforms
Demonstratable experience in marketing and communications
Knowledge in the technology industry
Deep knowledge of marketing, lead generation, digital marketing, social media and public relations
Self-motivation, process driven, project management
Excellent verbal, written and interpersonal communication skills
High level of initiative, and proven ability to work independently
Up-to-date with the latest trends and best practices in marketing and measurement
Attention to detail, deadline orientated, customer focused
To submit your resume for this job please email This email address is being protected from spambots. You need JavaScript enabled to view it.
ABOUT MARKETING EYE
Marketing Eye Atlanta is a results-driven, creative marketing services firm that works exclusively with high-growth businesses in the US market. We have a diverse range of clients across logistics, technology, health, retail, building services and professional services industries. As a thought leader, our marketing strategy methodology provided the blueprint for automated marketing strategy development technology, Robotic Marketer. We use this technology to power better marketing performance, insight and ROI for our clients.
Marketing Eye Atlanta's mission is to help businesses realize its full potential by aligning marketing and branding achievements to the overall business goals of the company's we work with.

RECRUITMENT DECK

Like any professional marketing consulting firm in Atlanta, Marketing Eye has a recruitment deck which clearly outlines the role, responsibilities and expectations of the role of Marketing Communications Manager, and also career progression.

WHY THIS JOB IS GREAT

The small team of professionals in our Atlanta office are really kind people competent at their jobs. They are inviting, team players and always do their best to encourage others to bring to the table their A-Game. You will learn more in one year at Marketing Eye than you have possibly learned in your career. Creativity is encouraged, thinking outside the box is a must and a diverse cross section of businesses allows you to understand challenges that companies are facing in marketing and find solutions. Other than your first month where you are required to learn about our company and that of our clients, there shouldn't be much overtime required. We really focus on work, life balance so we believe in rest time.

WHY THIS JOB IS HARD

Don't overpromise in your interview and under deliver. This is a mistake many marketers make. It is important to understand that marketers are not expected to be great at every aspect of marketing, but it is imperative that you understand your weaknesses. Consulting can be hard as it is "billable hours" but once you get the hang of things, it becomes much easier. You are expected to be better than our clients can hire in-house so there is a constant expectation that you are learning as much as possible about new marketing techniques, technologies and ways of doing things. Meeting deadlines is not up for interpretation. A deadline is a deadline. If you are not great at writing content or proof reading your work, this won't be the right fit for you. Clients demand well written content that is thoroughly proof read. Keeping clients happy is easy if you follow the process, but if you are not a process driven individual who believes in communicating with clients regularly, this will not be the job for you.

Other than that, you will learn a lot, push your own limits and create memorable marketing campaigns for clients who genuinely appreciate good work.