Increase the value of your company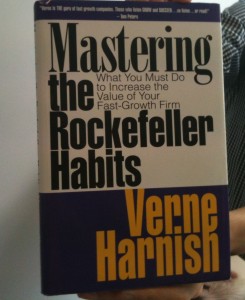 Thinking about where you business is heading in 2011 and want to increase the value of your company? Each year, I pull out of my library Verne Harnish's 'Mastering the Rockefeller Habits' to re-think my business strategy and develop some smart systems within the business to increase its value.


There are certain things that CEO's of fast-growing companies know and its always great to get an insight into their learnings.

The Planning Pyramid Organiser is a MUST for every fast growth business. I filled in what 2011 would look like for Marketing Eye in December and I have to say, I feel more organised in Marketing Eye's approach to growth because of it.

About Marketing Eye

Marketing Eye is Australia's leading marketing consultancy firm for small businesses. Providing valuable small business marketing to companies that are looking for high-growth, Marketing Eye has an experienced team of professionals that deliver results day-in, day-out.

Find out more about Marketing Eye by contacting 1300 300 080.