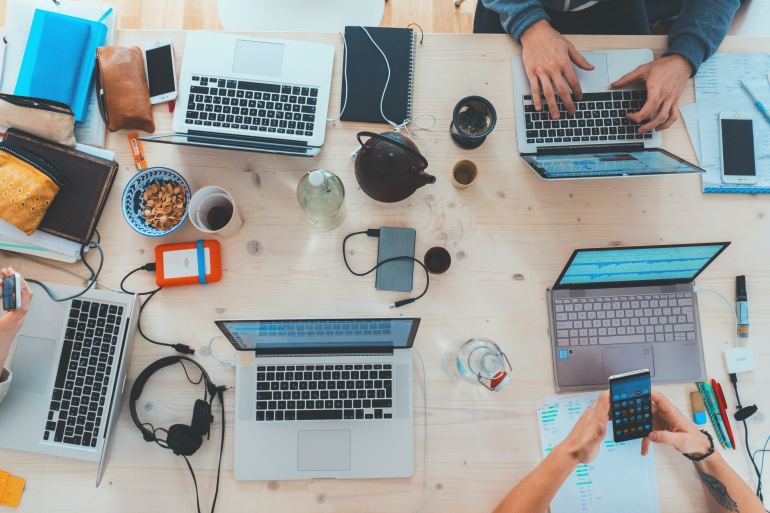 How your brand can cut through a saturated B2B market
Today, with a growing demand for various products and services, newer businesses are launching. These days, launching a business is easy. With the right tools, getting your first set of customers is smooth. However, once you've fallen into a routine as a business, you can't stay stuck. You have to think of the following steps to ensure your business thrives in a competitive market.
An upside to a competitive market is that it ensures the demand for your business. However, businesses often lose track of how to stay in the market and lose out on the company's growth. As a business in a saturated market, you're forced to evolve to meet your customers' needs constantly. But how can you cut through a roadblock and stay competitive?
Read on to understand the different ways your brand can stay thriving in a saturated market

1. Your brand story
When businesses are new, their values are aligned with the company's positive growth. However, when you're in a saturated niche, you have to find ways to showcase your brand's vision. An excellent way to do this is through branding and packaging.
How you package your product to an audience speaks volumes about the type of brand you are. Therefore, it is essential to pick an approach that separates your brand from competitors.
Align your values with branding and packaging to tell a story that resonates with your target audience. Craft strategies that are relevant to communicating your brand values and industry trends.

2. Build the audience
Before you build your product, develop your target audience. Study them, research, and understand their needs. You know how you can attract your target audience in a competitive market by doing this.
Once your audience is specified, you can mold your product to resonate with them. For a marketer, no niche is saturated. You can create campaigns and strategies that stand out to your target audience with proper analysis. When you know your audience, their feedback also helps you grow.
Always get to know your audience before you market your product. Saturated or not, the market is made up of people that have different needs. How you communicate with them can set you up for success.

3. Customer service
In newer businesses, the top managers take responsibility for customer service. However, when a company is well established, the top players in the company cannot invest their time in customer service.
Investing in customer service means positive effects long term. According to Forbes contributor Larry Myler, consumers equate experiences with brands. Therefore, if they have a terrible experience, they will most likely write the brand off. However, investing in customer service means your consumer can communicate their grievances, and you can rectify them.
Customer service builds trust and makes your audience feel heard. The Walker Group predicts that by 2020, customer experience will be the key differentiating factor amongst businesses.
Hence, investing in customer service for good and bad days can help your brand be stellar in a saturated market.

4. Retention
Your business is set up, you have your customers, and the profits are flowing in. But what's next? How will you retain existing customers while promoting your brand to new customers?
It doesn't matter if your business is old or new. If you can't retain customers, your brand value decreases.
When you study why customers aren't staying with your product, you can improve. If customers are satisfied with your effort, they'll come back. Research cost-effective methods to improve your customer retention.
In 2022 and going forward, focusing on customer retention should be a brand's top priority. Without customers, your products and services hold no value. To retain your customers and see growth.

5. Know your competition
A business most likely has several competitors to deal with in a saturated market. Therefore, any company must focus on their competition, study their strengths, weaknesses, and strategies and use that information to their advantage.
Often we see our competitors do something and try to do the same thing but better. While this might work in most cases, it's wise to focus on strategies your competitors are passing up.
What doesn't work for them can work for your competitor, can work for you. It is better to try at something and fail than not try at all.

6. Maintain relationships
If you've mastered all the steps to stay on top in a saturated market, it's time to take a step back and evaluate your progress. So often in businesses, leads take precedence over relationships. A lead can be timely, but relationships last longer.
Focus on growing relationships in the market and understanding other businesses and consumers. Once you have good business relationships, leads flow in automatically.
An excellent way for businesses to maintain and grow relationships is through chatbots, newsletters, and feedback forms. These tactics help create communication between brands and customers.

7. Influencer Marketing
Once an intriguing trend, influencer marketing has become a standard marketing tool today. This type of marketing may feel saturating, looking at it on a macro level. However, it can yield benefits and help you stay in the game.
Micro-level influencers are just as influential as macro-influencers. Their relatability helps attract consumers. Once you know your niche, it's easy to collaborate with an influencer that uses their voice to communicate your values.
Develop a plan to reach out to influencers and communicate your vision with them. Slowly but surely, this tactic will bring positive results.


Markets will remain saturated. However, it is your job to make sure you're still standing out to your customers as a business. At the root, marketing, networking, and new technologies can pave the way for brand growth. However, companies must continue evolving with the times.

Image Credit: Marvin Meyer