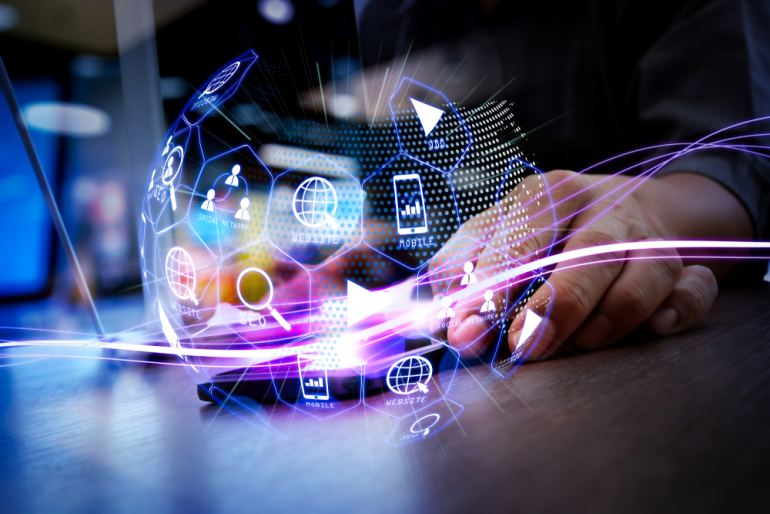 How to use technology to enhance your marketing
In the past, traditional marketing methods included handing over pamphlets, newspapers, banners, etc. Though these methods are still being used today, modern marketers are seeking new ways to improve marketing approaches with the help of technology.
After the pandemic, many companies understand the importance of digital transformation and prioritize it. Technology can always enable businesses to impress and engage their target personas to stay ahead of the competition to allow you to connect with the right prospects at the right time.
Are you still struggling with your marketing campaign? Here are some modern technologies that rock.
Social media platforms
Do you want to promote your brand and increase your sales via social media platforms? Social media plays a vital role in our customers' lives in the digital era. Social media marketing will be your best option if your business seeks a convenient way to communicate and engage with your customers. Once your business gains enough attention on social media, launching and promoting your new products or services will no longer have obstacles.
Social media platforms are ideal places for most companies to gain attention and traffic in a particular industry. Simply through posting, you can engage with your customers, build your brand image, and socialize with your potential partners. Looking at social media demographics in 2022, you will easily find that watching social media takes up most people's time for a day. Thus, if you choose the right platform and post engaging content at the right time, reaching your customers will no longer be a problem.
On the other aspect, influencer marketing is getting more common. There is no need to sign a significant endorsement; small companies can seek cooperation with micro-influencers that can help them build relationships with loyal customers.
Chatbot technology
Though your team may be composed of versatile talents, they may need more than 24 hours to be able to work. That's the most straightforward reason for you to try chatbot technology. The utilization of chatbots has brought great benefits to many companies. Big online retailers like Amazon and Alibaba have been pioneers in applying this fantastic technology.
Generally, there are four types of features that chatbots have: quick question answers, complaint resolving, detailed query answers, and finding a human agent. By using chatbots, you can save your time and money while generating significant revenue.
Artificial intelligence and machine learning technology
AI marketing uses technologies to improve customer experience by providing customized service in real-time. This technology is especially suitable for large-scale and repetitive work. Modern marketers have been talking about the need for personalization and omnichannel integration for a long time. They keep finding new solutions for improving customer experience. AI marketing allows intelligent and human creativity to work together. It is suitable for learning, understanding, and engaging with your customers when you may need more time.
Cloud technology
Does the cloud sound far away from your life? No, this technology is transformative and penetrates every aspect of your life. More specifically, if you run out of iPhone storage, you will need to pay for iCloud service. The teaching and studying panel is backed up by cloud when your kids go to school. When you go to the library, you download academics from the cloud.
Cloud technology is known for its massive data storage and quick information analysis capability. As a result, it is becoming the backbone of higher education, claim management, and financial services. As a result, these industries are facing a large-scale workload every day.
Augmented Reality and Virtual Reality technology
Many companies are experiencing AR and VR technology to increase brand awareness and improve customer experience. This technology will help your customers to visualize their purchase before they make final decisions. It is widely used in arts industries, like online virtual galleries. Industry giants like Ikea, one of the biggest furniture retailers, have conducted successful marketing campaigns by providing customers with VR home design. As a result, the Ikea VR Experience helps to boost its sales and survive after the pandemic. The practice shows that AR and VR technology is ideal for the retail industry.
To conclude, as customers are facing a living crisis and inflation, stimulating market and marketing will be the featured work that we need to learn. Marketing is long-term, and your marketing strategies should fit the digitization trend.
After understanding new technology marketing, you will have an overview of how artificial intelligence changes people's daily lives. The more you embrace technology, the more engaging you will be with your customers. In a word, social media platforms, chatbots, AI & VR, and cloud technology will be the future of marketing.