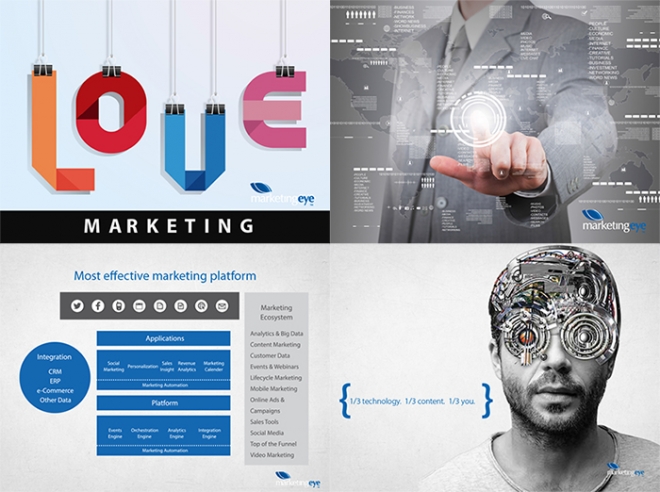 How to increase your sales by 68% in one month
Recently I shared a presentation about the value of marketing automation implemented correctly in a business. I gave the presentaton at

Cebit 2015 and r

ather than use a generic case study, I focused on my own company, Marketing Eye, as an example of how to implement marketing automation and gain immediate results.
To give perspective to this, Marketing Eye has a substantial amount of traffic coming to our website each month, mainly due to the popularity of this blog and the effectiveness of our SEO team.
This is strategic.
We prefer to not spend money on marketing if we don't have to, so its essential for our business to do everything well. Our investment is largely in employing people, technology and education - and for us, that's money well spent.
Before we embarked on implementing a marketing automation solution, we already knew the value. We had been instrumental in marketing automation software being implemented in our clients' businesses and creating content to ensure campaigns were effective. We also develop our clients' websites, so combined with powerful content and an effective marketing automation solution, they are able to achieve their marketing goals.
But like any good mechanic, we were slow to adopt marketing automation ourselves, this was due to the fact that we were generating enough leads and sales. So here is a 5 step plan to help you understand the value of marketing automation.
Step 1: Build a strategy
Before starting, we

developed a strategy

around marketing automation. The strategy covered the strategic outcomes we were looking for from marketing automation, our content marketing strategy, website modifications and adaptations, technology, human resources and financial goals.
Step 2: Find the right technology
We investigated and trialed 8 different marketing automation technologies before we arrived at Marketo. We chose Marketo due to the fact that there are only two real main players in terms of functionality and ROI in the marketing automation space, and that is Eloqua (Oracle) and Marketo. Eloqua for us was the least expensive option (free for Partners), but we chose Marketo due to the relationship that was developed over the time of trialing with the business development manager. He ticked all the boxes. Importantly for us is that we have a good fit and if we use the technology and it achieves our goals, we an authentically refer it to our clients. We sought to be a Certified Partner of Marketo so that we could learn the technology well enough to not only create content for our clients, but also implement the technology for them and use our buying power to give cost saving to our clients for their subscription. It's a win for our clients and a win for Marketing Eye.
Step 3: Invest in implementation
Buying a subscripton is only 25 to 40% of the equation. You still need to invest in content development and people to manage the process and speak directly to leads. Too often, companies buy technology like this, and think it will work by itself. It doesn't.
Step 4: Adjust, adapt and stalk
Marketing Automation saves time and money, measures and optimises marketing investments, and ensures a return on investment. For marketing automation to work, your website needs to be visually appealing, content optimised and the functionality needs to be second to none. Once these things are working, and your content strategy is being adapted according to your stalking mechanisms through marketing automation - you are really able to start nurturing prospects, sourcing who is a hot prospect and who is not, and getting sales.
Step 5: Sell, sell, sell
Once you have nurtured a prospect all the way to a sale, keep selling to them and giving them after sales service, upselling and cross-selling and reasons to stay connected with your brand and become an ambassador.
Marketing Automation will be amongst the most piloted marketing technologies of 2015.
By implementing marketing automation and collaborating with other marketing platforms such as direct marketing, social media, seo, and e-marketing, Marketing Eye was able to achieve a 68% increase in sales in just 30 days of implementation. That is enormous, but a clear cut example of how marketing automation can work if done properly.