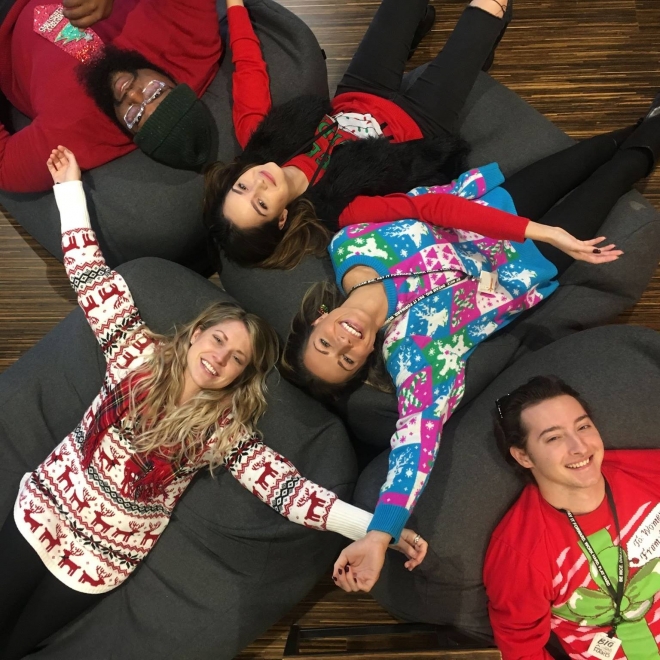 How to create an energetic office culture
What is there to not love about America? I am blessed with a life of travelling backwards and forwards from Australia to Atlanta, meeting amazing people and having a team of individuals in my office that are very talented and uber cool.

They make me laugh so loud, have funny sayings, and truly love what they do - and it shows. Their performance is exceptional and they do the little things that count including having each other's backs, being kind to everyone or giving each other a kick up the butt if someone isn't pulling their weight.
Proud to be part of the team
We share each other's life experiences, and are proud to be part of the team. They want to be the best and are prepared to do the hard yards to make that happen.
All I had to do is give them a brand and keep innovating and educating - they do the rest.
It's the first part of my business that I have allowed to test things on to see if they work or don't. The first being having a young office and using training and development to up-skill people to the level of their more senior counterparts. That has worked wonders. Not only are they more across all marketing disciplines than their older counterparts, but they are also hungry to learn new things and use applications such as Snapchat, whereas others wait to see if it works before dipping their toes into the water. We pay according to performance, regardless of age. They love their clients but have the confidence to push back on client requests that they know doesn't work due to their experience and knowledge in marketing.
Collaborative by design
Marketing Eye Atlanta is truly collaborative. They sit side by side and share ideas, concepts, clients, skills and areas of their work that they may not be as strong in. They take pride in asking other members of the team to critique their work, so that they can always be on the improve.
However, it is the energy in the office that is the most contageous. I can't describe what it is like other than to say that every time I step into their office I feel rejuvenated, inspired and ready to take on the world.
I asked two of our more experienced team members today, how they have created such an energetic, uplifting culture and
here's what they had to say:
Every person is a self starter
They all like each other and care about each other as if they were one big family
The company keeps innovating and developing the team, and they are always learning new things
No day is ever boring or mundane
If they don't feel like working on a particular company one day, they have several others that pike their interest
Their respect, loyalty and attachment to the Marketing Eye brand is something they are proud of. They love telling people they work for Marketing Eye.
The personalized nature of the way we do business; treating each other like family and our clients as real people - not revenue, is refreshing and authentic
They pick their own team
They each bring something to the table and each is responsible for doing so repeatedly
I cannot speak highly enough of this
'experiment'
and the success we have had. They are my role models and people I am so proud to know. I cannot wait to see where they take the business in Atlanta in the next 12 months and how they empower each other to be better.