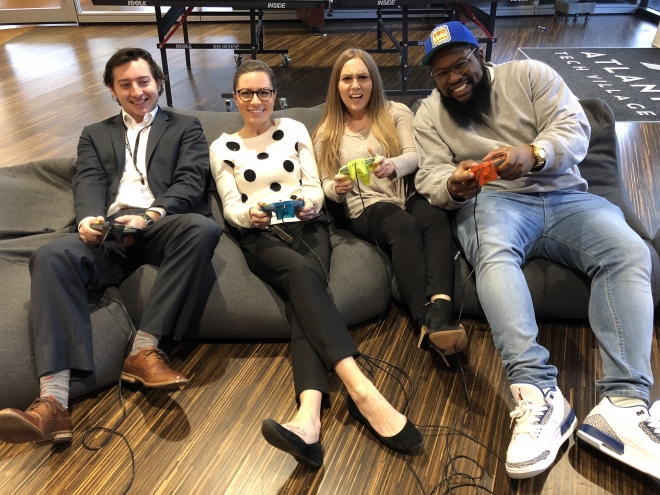 How to build energetic marketing teams - Marketing Eye Insights
Marketing Eye Atlanta rocks. They are the most enthusiastic, motivated, fun team we have in the Marketing Eye family. The energy in the office is electric and the vibe in the office would bring anyone's mood to a level of elevation that can only be found when you are doing something you love.

For me, when I visit offices, I am very aware of the vibe. One bad apple, can spoil the bunch - so understanding the dynamics that makes a team energetic and alive is incredibly important to overall performance and company culture.
What makes for an energetic team? Here are
8 ways our team in Atlanta stay playing the game:
Winning team: They win day-in, day-out. Their marketing campaigns are always in the top campaigns that our company produces globally and they know it. They also know the feeling of "winning" by constantly bringing in new clients and seeing the company grow due to their hard work, determination and skills.
Human behavior: Having a bad day? Well, expect that there will be a chocolate on your desk, a cup of coffee or a smiley face. It is impossible to have a good day, every day, and we all understand that by accepting human behavior has its ups and downs, we can change the outcome of the people we care about. We also think of ourselves as psychologists (not trained - just hacks), and to do marketing you have to understand your audience. If we go into the office every day and don't look up from our screen, there is certainly not going to be an energetic vibe. We need to lift each other and push ourselves to be involved.
Efficient marketing teams: With improved efficiency, the team has more time to have fun, come up with new ideas, surf the net, read books and magazines, listen to podcasts etc. We have systems, processes and SMARTS in place to ensure that our team works harder, faster and smarter than other agency counterparts. It is what sets us apart, and gives us that little pep up to explore what is possible in the field of marketing and life.
Limit stress: Stress is always a hard one. Some people (like myself) just get stressed. Understanding what stress does to people or yourself is essential to growing as an individual. If you get stressed a lot, understand why. I for one was realizing that I was getting stressed when people were throwing things at me every 5 minutes that they needed for me to solve. So I decided on putting some boundaries in place. Unless it is critical, I don't need to know. If I need to be part of the decision making process, then every Monday and Wednesday morning, everyone's list needs to be combined and we need to go through it together. Another young lady in one of our offices gets stressed because she comes from an advertising background and to do her job she is required to challenge herself and learn marketing. While her degree is in marketing, like everyone else before her, we have to teach her what marketing really is in the real world. Constantly learning can be hard, and always not knowing what to do puts people out of their depth. My advice to her is to embrace learning and see it as a way in which to conquer her own personal goals as well as her professional one's. Everyone is different, but having an insight into how to manage stress is important.
Find the human side to your business: What is our 'why', our 'purpose' or what makes us tick? Whatever it is, ensure that it includes having fun, a laugh or two, and just being human. Take that robotic nature of yours that you call discipline and shake it up a bit. Ensure that you are constantly building your team up by doing things that put them out of their comfort zone and encourages them to be human. Make mistakes and laugh about it.
Inspire: Encourage your team to be inspiring human being, not just in their careers but in their lives.
Authenticity: You don't have to be someone else. What makes you different makes you beautiful. Every person has something to bring to the table. Let them bring it to the table in an authentic way. Encourage your team to be motivating to others and to their clients, generous in spirit and kind always.
Build your team story: We are in marketing and sometimes we forget that each and every one of us are part of this narrative we call business. What will your teams story be? What will make your story interesting? How should you tell your story? Snapchat? YouTube? Instagram? Facebook?
Energetic teams are happy teams. Happy teams perform. Pretty simple really.