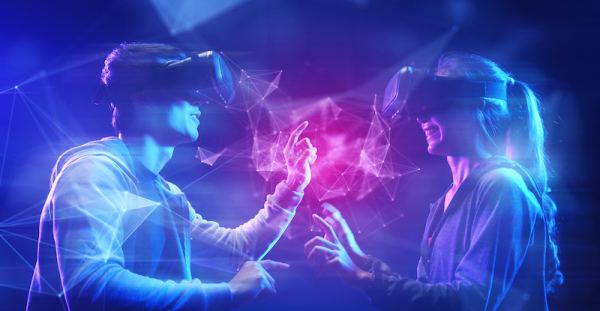 How The Metaverse Will Redefine Graphic Design
Written by Emily Thompson
The new concept of the "Metaverse" is almost impossible to wrap your head around. With various new technologies and platforms coming onto the market every day, keeping up with the newest ones is becoming progressively more difficult. Movies such as "Ready Player One" and "The Matrix" have already defined "the metaverse" for moviegoers and the endless interactive possibilities this new virtual territory could entail. These movies display to their audiences that anything that one can imagine, can be created in the metaverse.

Allowing us to establish extended experiences from our real lives. The parallel divide between real and metaverse life, once a futuristic dream, is coming to life right in front of our eyes. Yet the question is, are the marketing, communication, and design industries ready for such a drastic change in the way we consume media and technology?
How the metaverse is redefining how we live

The metaverse is redefining our technological consumption one step at a time. From allowing people to interact, socialize, and work in virtual environments, to changing the way our marketing strategies will be affected going forward. This combination of virtual and augmented reality environments will not only allow us to look at the internet from a real-world perspective but also enable users to be completely immersed and be a part of a virtual technological world. This causes mass changes to occur in the graphic design industry.
Breaking new barriers with graphic design

Traditional communication as we know it today has worked the same way for years. The marketing industry is made up of two-dimensional graphics, our media, advertising, and all marketing is currently consumed through flat 2D computers, tv, and mobile screens. Because of this, the metaverse will break graphic design boundaries. The surface-level designs of today will have to be reconsidered to fit into a 360-degree dimensional the metaverse is creating for tomorrow. However, some companies are already redefining the early stages of the metaverse's establishment, with already over 26 million VR headsets sold worldwide, some businesses can establish the grounds for technology that is sure to thrive within the next few years.
Visualize avatars

In 2016 Microsoft developed the HoloLens goggles, a mix of augmented reality and holographic design to allow businesses to "resolve issues in real-time". Through a plethora of optical sensors, microphones, HD cameras, light sensors, and Microsoft's "Holographic Processing Unit", the HoloLens glasses can sense the spatial layout of a real room you are in and incorporate holograms into that environment. This allows you to not only visually see, work on and interact with tasks via hand tracking, but similarly enables you to talk to colleagues on Skype and visualize their avatars in your virtual space, creating a seamless, collaborative environment without boundaries.
Immersive virtual environments

In terms of more in-depth VR environments, Oculus, a virtual reality company established by the parent organization Meta, is owned by none other than Mark Zuckerburg. It is no lie that Zuckerburg and the whole Meta organization have been redefining technology and social media advancements for decades, therefore why would VR be any different. Their advanced all-in-one VR gaming goggles: Oculus Quest, allow users to find "new ways to workout, socialize or lose track of time" in an ever-expanding virtual library. Their fully immersive virtual environments take users out of the real world, putting them into a virtual one through groundbreaking 3D video and sound technology.
These two different types of virtual reality are already changing the way we use technology yet will also revolutionize the way we strategize our marketing campaigns for the future. As our current technology focuses predominantly on two-dimensional data, graphic designers will have to adapt and modify their current design approach to extend what we know as the marketing of today into the marketing of tomorrow.

Image Source: Shutterstock-2028990734