Have you got time for a coffee?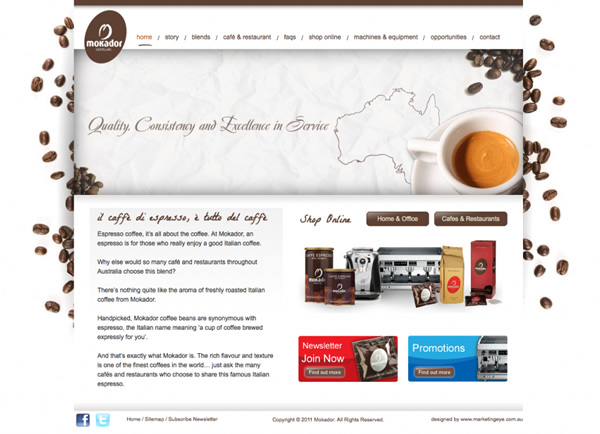 Who has had a bad coffee? I am sure that 100% of people have had an experience of a bad coffee and no doubt will continue to as our favourite brands are not always available, where we want them to be. The coffee industry is a burgeoning industry, and locally in Australia, companies like Vittoria Coffee has pioneered the coffee industry and taken a significant dominance in the buying decisions of not only coffee shops but also to consumers who pick coffee off the shelf at the local Coles or Woolworths stores.
Whilst I am totally in love with the advertising campaign by Vittoria Coffee with Al Pacino and think that Les Shirato is one of the most inspirational businessmen in the country, completely lacking in ego and possessing old fashioned good manners, I am not 100% sure that I would purchase their beans to have a coffee at home.
The reason being, is that for some reason, it just doesn't taste the same. I am sure that this has alot to do with the fact that I don't know how to make a coffee.
What I find works for me, is coffee's like Mokador. They are like Nespresso (great marketing btw!!!) but better tasting. They may not have George Clooney, but they have a unique taste that works really well with my pallette. In fact, whenever someone comes to my house and they have a Mokador Coffee with me, they always leave wanting to know where they too can get Mokador Coffee from.
Mokador is an Italian brand of coffee and their machines are a must-have for any modern kitchen. I bought mine online and now have one in the office.
They also set up large offices with coffee machines that they maintain, which is awesome, particularly because the grime is disgusting in most coffee machines that are not professionally cleaned and unfortunately, we end up getting the residue from this in each cup of coffee we have.
Next time you want a great tasting coffee, why not check out
www.mokador.com.au
. I highly recommend it.
P.S. If you like this marketing blog, then please feel free to share it on whatever social network medium you see fit. We love
facebook
,
twitter
and
linkedin
!