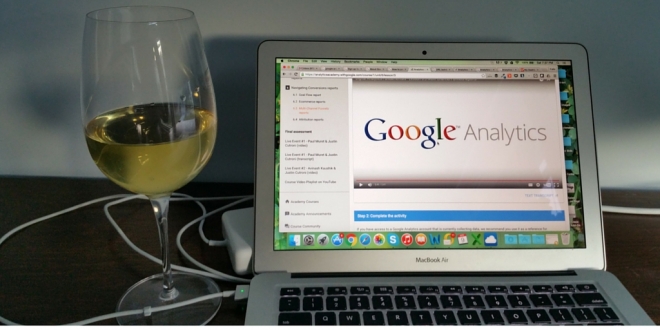 Get Your Google Analytics Certification
Recently we posted a blog telling Marketers to "Step Your Game Up." This blog points out the first order of business was to get you Google Analytics Certification. I'm guessing you didn't run right out and do that.

Information on visitor behavior is vital to the success of any website. I know we all use Google Analytics everyday. If your day is like mine you have coffee, go through emails, then check Analytics. You understand the program, you understand what you are looking at. Why are you not certified? Lazy? Think it doesn't matter? The following are 4 major reasons to just take the time and get your certification.
1.
Enhanced Competency
Going through the modules will give you a great understanding of how to use Google Analytics professionally. There is so much more to it than the surface features everyone knows. You will learn to use all the features Google offers and you might be amazed what you weren't doing correctly.
2.
Adaptability
If you understand Google Analytics, you can easily apply your understanding into quickly learning any other analytics tool/package out there. I'm not saying all analytics tools are the same, but understanding one will help you adapt quickly to another when the time comes.
3.
Resume Builder
Ok, obviously this is something you want on your resume. Having the certification gives a sure sign to employers about your competence in Web Analytics (level of legitimacy). A firm understanding of Web Analytics tools is such a major plus to any marketer.
4.
Company Benefit
More people are likely to use your services after you obtain your certification. Hence, your company gains a definite edge on your competitors. If the most widely used search engine on the web has given you "a blessing" which says you are competent with this tool, your company will benefit from your knowledge.
With so much riding on website analytic data, there are a number of benefits to earning the Google Analytics certificate. Being able to interpret the visitor behavior data that Google Analytics gathers is critical for finding out what is working, what isn't, and maximizing your site's performance. So grab a glass of wine and watch your videos, take practice tests and get ready for the real thing. I've made it easy, go
here
and get started.
If you truly don't have the time to get certified, let us do your marketing.
For More Information on How Marketing Eye Can Help Your Business call our Atlanta office at 404-626-8070 or email us at
This email address is being protected from spambots. You need JavaScript enabled to view it.