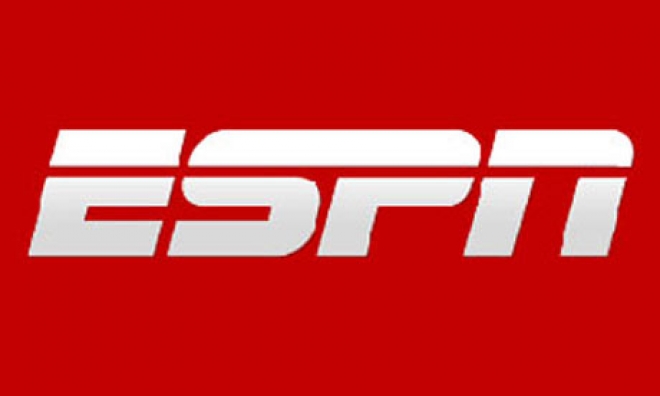 ESPN has developed quite a reputation, and depending on who you talk to, it could be one of two things. First, Bill Simmons of HBO does not have the
kindest words
for his former employer, to put it lightly. Second, the masses have long known ESPN for its comical commercials that feature star athletes and analysts alike. Recently, ESPN aired a commercial featuring David "Big Papi" Ortiz of the Boston Red Sox alongside two of his teammates. Without giving away too much,
the commercial
deals with his impending retirement at the culmination of this season. This isn't the first time ESPN has used sports culture to push its name out there. These six commercials embody wit, humor, and much more along the way. Below are some short teasers for the commercials that have people rolling on the floor (literally) with laughter.
MY ANKLE!
As USWNT soccer star Abby Wambach makes her way down the hall at ESPN headquarters, analyst John Anderson walks into a co-worker of his, and then falls to the ground crying out in pain. "I won't work for weeks! Oh, my ankle!". This is a personal favorite of mine and it gets me everytime. Try this one out in the office when the Rio Olympics roll around.
Going Up?
In this commercial, Jay Harris of ESPN enters the elevator that the New Jersey Devils mascot is in. After Harris figures out that the elevator is going down, he promptly exits the elevator. The look on his face is priceless. Definitely don't do this when your boss is in the elevator.
Russian Spy
Alex Ovechkin can be found sorting through the filing room while in the dark. Once an analyst walks through and asks what he is doing, Ovechkin casually goes about his business. The analyst jokingly calls Ovechkin a Russian spy before walking out. Ovechkin then exits the scene through the ceiling with the help of a Russian teammate. All joking aside, this would be an amazing office prank to pull.
Favre Is Coming Back?
Announcing retirement has always been a big issue for seasoned veterans, and Brett Favre is no exception. ESPN established a communication system in this commercial that would help get the word out about Brett Favre's decision. The only trouble is, nobody can remember how many lights will signify his retirement. For those older co-workers that you aren't sure about, this system could help your office when that time eventually comes.
Perfect Game
Much like professional baseball, analysts at ESPN also strive to have the "perfect game" on air. Superstitions and nerves are present, that is, until a double negative spills out on air, ruining the perfection at stake. Those guys gotta have something that drives them.
Manning Brothers
As my last "This Is SportsCenter" commercial, I had to go with a classic that doubles as an ode to the great Peyton Manning. As the Manning family is touring through the headquarters, Peyton and Eli start giving each other trouble as they walk the halls. When Archie, their father turns around, they both respond with the look of a victim. Of course, Peyton gets the last hit in on Eli as they carry on with their tour. For the siblings that work together, don't get any ideas.
Honestly, there are too many of these witty commercials for me to highlight, so I am gonna do us all a favor and put a excellent compilations from YouTube below so that you have some easy access to this advertising gold. ESPN perfectly reaches their audience, and they manage to also keep everything in house by shooting the commercials in their headquarters. These commercials have been a long-standing tradition of the network and will hopefully carry on for many more years.
As promised,
here is the link
.
Need help making your brand stand out and favorable from the rest? Give our Marketing Eye Atlanta Office a call at 404-626-8070 or send us an email at
This email address is being protected from spambots. You need JavaScript enabled to view it.
. As
a full-service
marketing
, social media, branding, PR, web development, copywriting, and graphic design agency. We make results happen!