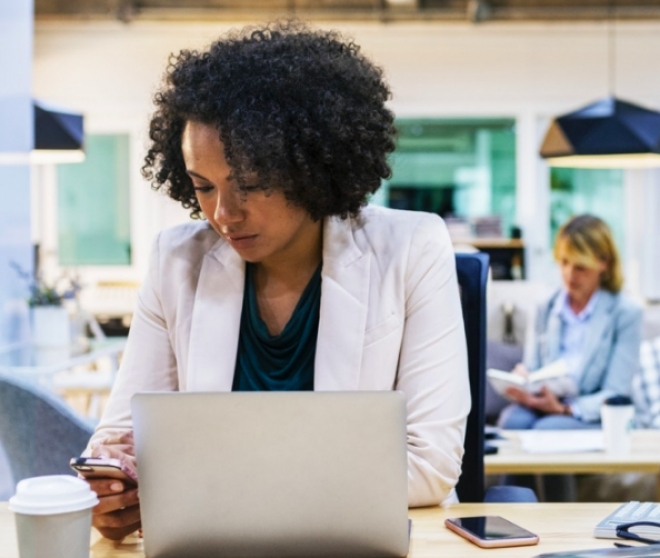 Entrepreneurship as a Woman
Entrepreneurship can be the toughest gig in the world - especially for a woman. There are many different issues that women face when making the courageous decision to be an entrepreneur. Most of it, though, is about their mindset.


When you first start your business, you're essentially in the dark. It doesn't matter how long you've been in the game - whether it be one year or twenty years, you're in charge of covering all aspects of your business. Business planning, marketing human resources, legal, all of the different core areas all at the same time with limited resources.
Starting a business can be terrifying, even more so, though, when you make the brave decision to do it alone. Imagine having no business partner, no life partner, just you and all your knowledge. Every decision that you make is going to play a part in either the growth or falling off your business. You live and you learn. What's even more interesting, is that when you fail, it's on you, and when you succeed, the credit goes to everyone. Putting your ego and ownership aside is the first step that every entrepreneur needs to do. Leave it at the door, it will be one less thing you need to worry about.
Running a business is like being on a rollercoaster. There are highs and there are lows, and when there is a time of calm with no bumps in the path, take time to savor the moment. It will come again, and eventually, you will build resilience and become stronger.
Interestingly, few women make it to the top. It might be because they are not crazy enough to run a successful business on their own without any partner or investor to stand with. Personally, I cannot think of anyone who falls into this self-made category, but I am sure there are thousands somewhere out there who maybe don't share their story for personal reasons. Let's be honest, sometimes the story comes with some embarrassment.
What I have observed is that women look to make the leap with others for two main reasons. One is that sometimes its better in two's or three's, the other being they realize that to do it by themselves they "could" fail. Often times, women don't trust that they have the ability to go it alone.
TRUST YOURSELF
Trusting ourselves and believing in ourselves is the biggest issue we as woman face.
Not men.
Yes, I said, "Not men". It is so easy to blame men and the glass ceiling on why we don't achieve our goals. The truth is, in the western world, now is a great time to be a woman.
While I personally never use this card, I know that women use excuses that are not necessarily always real.
Men don't stop us.
We live in an era that is pro-women.
Making the jump by yourself is not for the faint-hearted. It's for bold, confident and determined women. You can't steer a ship second-guessing your next move, sitting on your hands or worrying about the fact that people may not like you (just because!).
THE REALITY IS:
Women have more chances of running large businesses by themselves than men in today's western world

Women are naturally resilient and their nurturing side will help them better understand both sides of the fence

Leading by yourself without the support of a partner, investor or someone at home who you can talk about your day's activities is very hard to cope with but you will survive

Winning is not running a successful business, it's having a successful life

Whatever is holding you back from running your business the way you know it should be run, is holding you back in other parts of your life

You are powerful, worthy and strong - and need to remind yourself of that

Never look to other people for praise. If you can't go home at night and say you have done the best job possible, then no amount of praise will make you happy

Fake friends, lives or compliments are just that

Learn to laugh and find your 'silly side' because at that moment you will realize that you are human

You don't need to be a bitch to be successful

Focusing on your competitors is a sure way to create a very unsettling life

Stop being competitive with everyone else, and only be competitive with yourself

Promote women and men based on merit, not gender or how much you like them

Loyalty is hard to come by but when you have it, cherish it

Never ever put another woman (or man) down. It says something about you, and not them 100% of the time.

Insecurities will creep in but learn to manage that early on in your career

People will be nasty to you, but you will never be able to change that. All you can do is always be kind and let your actions speak louder than someone who actually hates themselves that needs to try and pull you down.
I DON'T LIVE A PERFECT LIFE
I won't pretend to live a perfect life. I have spent the past 2 years working my ass off to ensure that I achieved a particular work goal. I gave up everything from long holidays through to catching up with family and friends. Is it worth it? I'm not sure. What I know for certain is that I have done it myself the hard way. I have remained consistent with who I am and in particular my values. While I spend many hours alone, I need it to recharge for the next day. I never start a day off thinking 'bad things'. Instead, I start every single morning off thinking that this is a new day and it holds so much opportunity for me to make the most out of it.
There is no-one to say "I am so excited by what I have achieved today" because people rarely want to hear about someone else's success. I, on the other hand, invite people to share their stories and am proud of people who accomplish what they set out to achieve. There is so much work to be done and none of it is glamorous, but when you make your way through your business plan and execute your marketing strategy the way that you believe it should be done, then it's pretty satisfying.