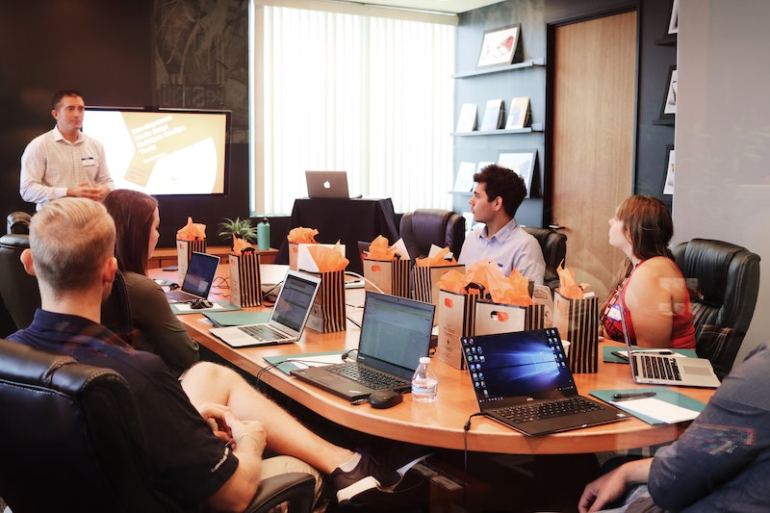 Digital Marketing vs Traditional Marketing, What Gives You the Best Outcome?
How we market to consumers has changed drastically over the years. With the changes in technology, we have seen an increase in the usage of digital marketing over traditional within a marketing campaign. Which leads to the question of which form of marketing has the best outcome for your business. We came up with some pros and cons of both digital and traditional marketing to decide which produces the greatest outcome for your company.
Traditional Marketing
Traditional Marketing refers to the marketing that uses traditional channels or media, for marketing communication. This form of marketing includes print advertisements, billboards, flyers, TV, newspaper, radio, etc.
Pros:
Harder to Ignore
A public multi-media campaign can help you surround your target with your brand, value proposition, message, and products. The mass effect and influence of mass media—TV, billboards, stadiums, and buses—are created. Allowing you to reach individuals who you may not have beforehand.
Billboard advertising can help you gain customers from those impulsive drivers. 72% of billboard viewers shop on their way home and 68% make shopping decisions while in the car.
Less Potential Risk
Offline, you have more control over your brand its message, as well as how you are portrayed. Traditional marketing strategies also convey the brand's stability and security to some consumers.
Direct Mail Is Better to Deliver Specific Offers for Specific People
While email marketing is improving, direct mail remains the most effective approach to properly target individual people with precise offers. When it comes to addressing existing or former clients, direct mail has a significant edge over digital marketing. Direct mail returned an average response rate of 9% for house lists and 4.9% for prospect lists last year.
Cons:
The Cost
Traditional marketing provides you with very little interaction with your audience and can be costly. A full-page ad can cost anywhere from $2,700 to over $163,000. You must also add in the total costs of production and media buy. You must consider your marketing budget when running your campaign.
Gradually Losing Its Audience
When planning your campaign, consider who watches traditional television or reads newspapers these days. While there remain distinct subsets of network TV watchers and physical newspaper readers, there is little doubt that paid TV subscriptions and e-readers are altering how people of all ages consume news and media. Traditional media channels, like financial marketers, are learning to adapt to a new generation of customers.
Does Not the Same Capabilities to Target Audiences
Aside from direct mail, most conventional marketing approaches cannot and do not provide the same level of segmentation and targeting that digital targeting does. It can be a lot harder to reach audiences through traditional marketing due to the fact are limited on how you get your content out to people.
Digital Marketing
Digital Marketing implies the marketing of products and services via digital channels, such as the internet, smartphone, display ads, and other digital mediums.
Pros:
Can Be Low Cost
You can't beat what digital marketing can provide. Typically running a marketing campaign can cost $2500 to $12,000 per month. However, some platforms can even be operated for free if you're willing to put in the sweat equity to get results. You can also use social media platforms (for free) to market your business.
Access Massive Audiences
Digital marketing, on the other hand, can reach people all over the world. The scope of this procedure is unbounded. You are capable of reaching out to someone with a marketing message as long as they are connected to the internet in some way.
Creates Higher Level of Brand Loyalty
Loyalty generates recurring commercial opportunities. Attracting recurring customers is significantly more profitable than continually reaching out to first-time purchasers. Digital marketing can assist you in establishing the loyalty required to solidify your company's visibility.
Cons:
Time Consuming
Digital marketing can take up a lot of your time. You must ensure that you have enough time set aside. More than 60% of digital marketer's report spending at least 6 hours per day on their digital marketing efforts.
Sometimes the Control is Out of Your Hands
Having your content go viral is a goal of many businesses because it can lead to an increase in exposure to your brand's message. It can also be a bad thing when someone takes your marketing campaign, publishes negative content about it, and their post ends up going viral. This can lead to people having negative thoughts about your business.
Judges you on Frist Impressions
First impressions are critical to everything we do, and that doesn't change with your marketing campaigns.
If the first impression of your campaign is unprofessional in any manner, the majority of individuals who encounter it will not take your products or services seriously. To provide the necessary favorable first impression, you must target people in ways that are appropriate for your product or service.
If you have any questions regarding your marketing strategy, get in contact with our marketing experts today at Marketing Eye!
Thanks to campaign creators on Unsplash for the image!